TAWONGA GAP & SULLIVANS LOOKOUTS
The dazzling sky has made the decision for you; it's lookout weather, so a drive to Mount Beauty via Tawonga Gap and Sullivans Lookouts it is. 
The fresh mountain air through your car window whips your hair like a movie star as you curl your way up Tawonga Gap Road passing a few cyclists who have come to tick off one of the iconic 7 Peaks rides. You give them 1.5 meters passing space and a thumbs-up to cheer them on.   
You're getting high now – almost 900m. Curving around one more bend, the eucalypt forest parts to expose The Gap as it meets the sky, beckoning you to pull in and take a look at what lies over the precipice. 
The air is cooler up here and makes your whole body feel alive. Your heart pounds in anticipation as you walk toward the lookout jutting into thin air, and then there it is; this is what you came for: Victoria's highest mountain, dusted with late spring snow and towering above a fertile valley. Mount Bogong – Warkwoolowler in the local Dhudhuroa language; the place where the people collect the Bogong Moth. What a sight to behold. You gaze at her folds and gentle creases, and understand unequivocally why the small town at her feet is called Mount Beauty.  
You find Sullivans Lookout down the road and while it's not quite as high a vantage point, you discover it's the perfect aspect of for a selfie. 
You're so impressed that when you get to Mount Beauty you duck into the Visitor Information Centre to find out if there are any more lookouts nearby. A local woman at the counter enthusiastically passes you a map and a copy of the Walks & Trails Guide and begins to point out where the best vantage points are.  
"On days like this you could see all the way from the Horn of Buffalo to Kosciuszko, and from mid-winter to early spring, when the entire horizon is capped in snow, it feels like you're perched on top of the world inside a snow-white halo," she beams.  
So here's the lowdown: The easiest lookouts to drive to are the two you've just seen and The Gorge Lookout at Mount Buffalo, which sits atop a shear-drop granite cliff. If you have 4WD, or are up for a scenic walk, there are Huggins and Apex, Lookouts around Bright, Reform Hill in Myrtleford, and a plethora of walks to spectacular views in Mount Buffalo and Alpine National Parks, including from Dinner Plain, Mount Hotham and Falls Creek. 
Mount Buffalo sounds like a must-do with its views, walks, waterfalls, caving, abseiling and kayaking. Maybe tomorrow?
But wait, aren't the Bright Make It, Bake It, Grow It Markets tomorrow? You've heard about the local produce and crafts, food stalls and live music, and the markets are only on once a month.  What should you do?
Choose your next adventure, or scroll down for more scenic views
VIEWS LOOK BETTER UP HIGH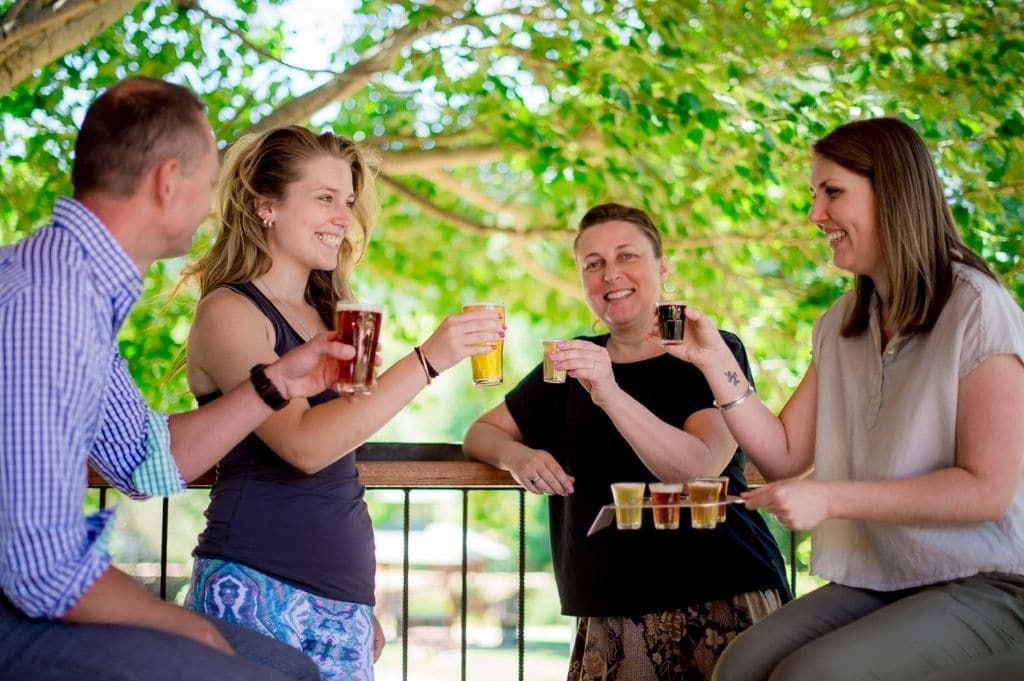 OUR BEERS & CIDERS ARE LEGENDARY
A visit to Bright & Surrounds isn't complete without a taste of our local brews, gin and cider.
YOUR ACCOMMODATION AWAITS
Whether it's a country cottage or grand holiday house with mountain views, motel, family cabin or campsite, we've got a place waiting for you.