BUSH CAMPING AT LAKE CATANI
There sure are a lot of stars out here you think as you stand high above the world atop Mount Buffalo. It's the first time you've seen it – there in the dark patches of the Milky Way itself is a giant emu stretched across the universe: one of the most ancient of constellations tracked by our First Peoples.
As the dark emu slowly moves across the night sky, it tells us of the seasons. You can't see it under suburban lights, but out here in the unspoiled darkness of Mount Buffalo National Park, you see the emu in all its glory. Tonight the emu's head is pointing down, getting off his nest; the chicks must be hatching.
Your tent is pitched at the campground near the waters of Lake Catani, so still in the night that the starlight bounces off it. All around are the sweet noises of nature: a chirp here, a hoot there, and a bit of a fuss from a brush tailed possum too.
It's a lovely campground; it's easy to drive to, has toilets and BBQ facilities, the tent sites are protected by snow gums aside a beautiful lake, and it's central to stunning walks, lookouts and waterfalls. There are even tour guides that will take you abseiling, rock climbing, caving and canoeing, and in winter, snowshoeing and cross-country skiing.
As you chat with the others over a glass of mulled wine around the campfire, you can see your breath condensing in the cool alpine air.
"Glad I brought that extra warm sleeping bag," you laugh.
In the morning, you get up early, taking a thermos of coffee, to watch the sunrise from Bent's Lookout at The Gorge. The darkness slowly fades revealing a mountainous horizon; a silhouette of blue in the dawn.
You're as high as the clouds – 1,337m – and the view from up here is breathtaking.
Awestruck, you watch the sun poke above a distant mountain, its light slowly creeping across the valley turning it a resplendent green. The light now hits the soaring granite cliffs of the mountain with you upon it, warming you face and your soul. Most days you would still be asleep, but today you made the choice to be here, and you're glad of it.
Back at camp, you and your posse eat breakfast by Lake Catani and watch the morning fog evaporate from its mirror-like surface. The day is young, and you chat about what to do next.
A friend of yours is in town and has invited you to play golf. Apparently, Bright's 18-hole course is rather good. But you're also keen to explore more of this unique granite mountain, with its giant boulders, alpine meadows and cascading waterfalls. What will it be?
Choose your next adventure, or scroll down for more camping spots
MOUNT BUFFALO NATIONAL PARK
The Lake Catani Campground in Mount Buffalo National Park has multiple tent sites, BBQ facilities and toilets and is accessible by vehicle. It sits high on the Mount Buffalo plateau, 28km from Porepunkah, and is open from the beginning of November until the end of April. There are also two remote campsites for self-sufficient hikers at Mount McLeod and Rocky Creek.
Due to popularity, campers should book well in advance for peak periods, which include the November Cup Day weekend, Christmas and January school holidays, Labour Day weekend and Easter. Bookings open on 1st of September each year. Call 13 19 63 or visit Parks Victoria to book.
Alpine National Park is generally not suitable for camping during winter when snow is prevalent.
Bush camping with a pit toilet is available at JB Plain between Hotham Village and Dinner Plain on the Great Alpine Road. Please bring your own water. On the Mount Beauty side, there is a campground at Mountain Creek at the foot of Mount Bogong. Other bush campsites include: Buckety Plain, Raspberry Hill, Langford's West and Pretty Valley Horse Yards east of Falls Creek.
When camping in the High Country, you should be fully self sufficient with food, water, warm clothing and equipment. Enjoy visiting huts but don't rely on them for accommodation – they may be difficult to find and may already be occupied.
Respect nature, after all, that's why you're here.
Take your rubbish with you. Leave no trace.
Pitch your tent at least 20m from a water source.
Do not cut down or destroy trees for firewood.
Fires are only permitted if it is not a Total Fire Ban.
Fully extinguish campfires out with water before leaving.
If toilet amenities are not available, dig a hole at least 100m from any water source and burry toilet waste at least 15cm deep.
Avoid camping under large trees.
Do not take dogs or other pets into a National Park.
Respect others in the area by keeping noise down.
From snow to bushfires, floods and gale-force winds, the weather in the High Country can be fierce and change rapidly.
Always check conditions before venturing out, ensure your equipment is working and carry adequate food, water and warm clothing. Importantly, download the VicEmergency and the Emergency Plus apps to your phone.
Notify someone of your plans before you set out. Many parts of the High Country have poor or no mobile phone coverage. In remote areas, emergency beacons and satellite devices are recommended for your safety.
OTHER EXPERIENCES YOU'LL LOVE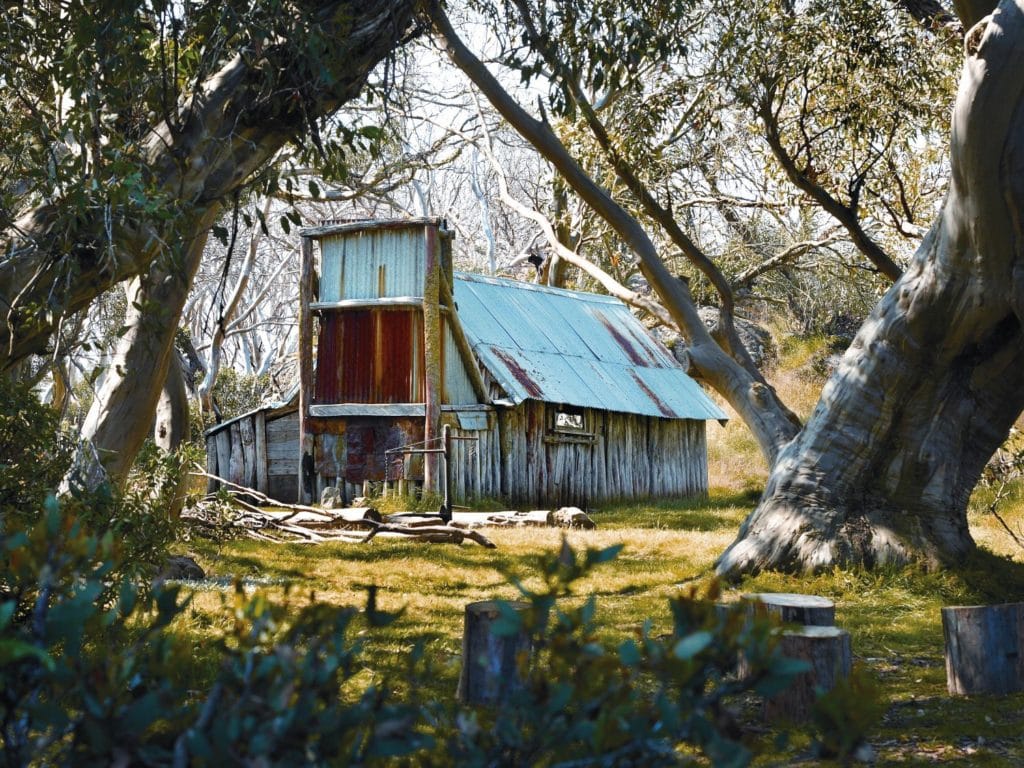 DISCOVER OUR HIGH COUNTRY HUTS
Dotted throughout the wild Australian Alps are historic huts with a story to tell. Here's how you can find them.
Take a dip in the river or cool off at a lake. Our natural swimming spots are the ideal way to spend a hot summer's day.