A RIDE ON THE MURRAY TO MOUNTAINS
You're a convert. E-bikes are fun after all; you put a teeny bit of oomph into the pedal and the bike gently kicks off like a trusty old horse. The staff at the bike hire place in Bright had run through how they work and after exactly three pedals, you wondered what you had been so worried about – this is fun.
You've got your copy of the Bright & Surrounds Cycle Guide and, having already ridden the Bright to Wandi Shared Path, decide to ride to Porepunkah on the Murray to Mountains Rail Trail, and maybe even the Great Valley Trail if you're feeling up to it.
"I can't believe there's over 150km of connecting bike path out here," you shout over your shoulder to the others who are laughing along behind you.
"Did you hear the guy in the store say you can ride all the way from Harrietville to Wangaratta on this path, or even up to Beechworth and Yackandandah? And there are wineries along the way!"
"Unbelievable. This has to be the best place to ride a bike in the whole country!"
You pass the Bright Museum at the Old Railway Station and head up an avenue of trees adorned with candle-like purple flowers. You jump off briefly to cross the Great Alpine Road (one of the few road crossings along the trail) and then cruise down the back way past the golf course and over a long bridge high above the Ovens River, where stopping to stare at the running water is mandatory. A group of kayakers float by underneath you.
You're in Porepunkah before you know it, and oh, how convenient, there's the Rail Trail Cafe. You're feeling very 'cyclist' as your group sits in the cafe garden sipping your Cappuccinos and Lattes.
"I wonder if that was a kayaking tour we saw before," you say to the others. "That would be a cool thing to do."
A local at the next table overhears you and confirms that kayaking tours run on the river. You get to chatting. His name is Pete.
"You can also go paddle boarding or canoeing on the lakes," he says. "Or the same tour guides will take you rock climbing, abseiling and caving."
You chat for a while about things to do in Bright and soon you realise the day is escaping and you won't have time to keep riding toward Myrtleford.
"Ahhh, that's a shame," says Pete. "A bunch of us are heading up to a great Italian woodfired pizza place in Myrtleford tonight. You're all welcome to join us – the more the merrier."
That has set your mouth watering. Should you kick-on with the locals? Or should you head home to prepare for a kayaking adventure on the Ovens River?
Decisions, decisions. What will you choose?
Choose your next adventure, or scroll down for more bike paths
RAIL TRAIL & BIKE PATH RIDES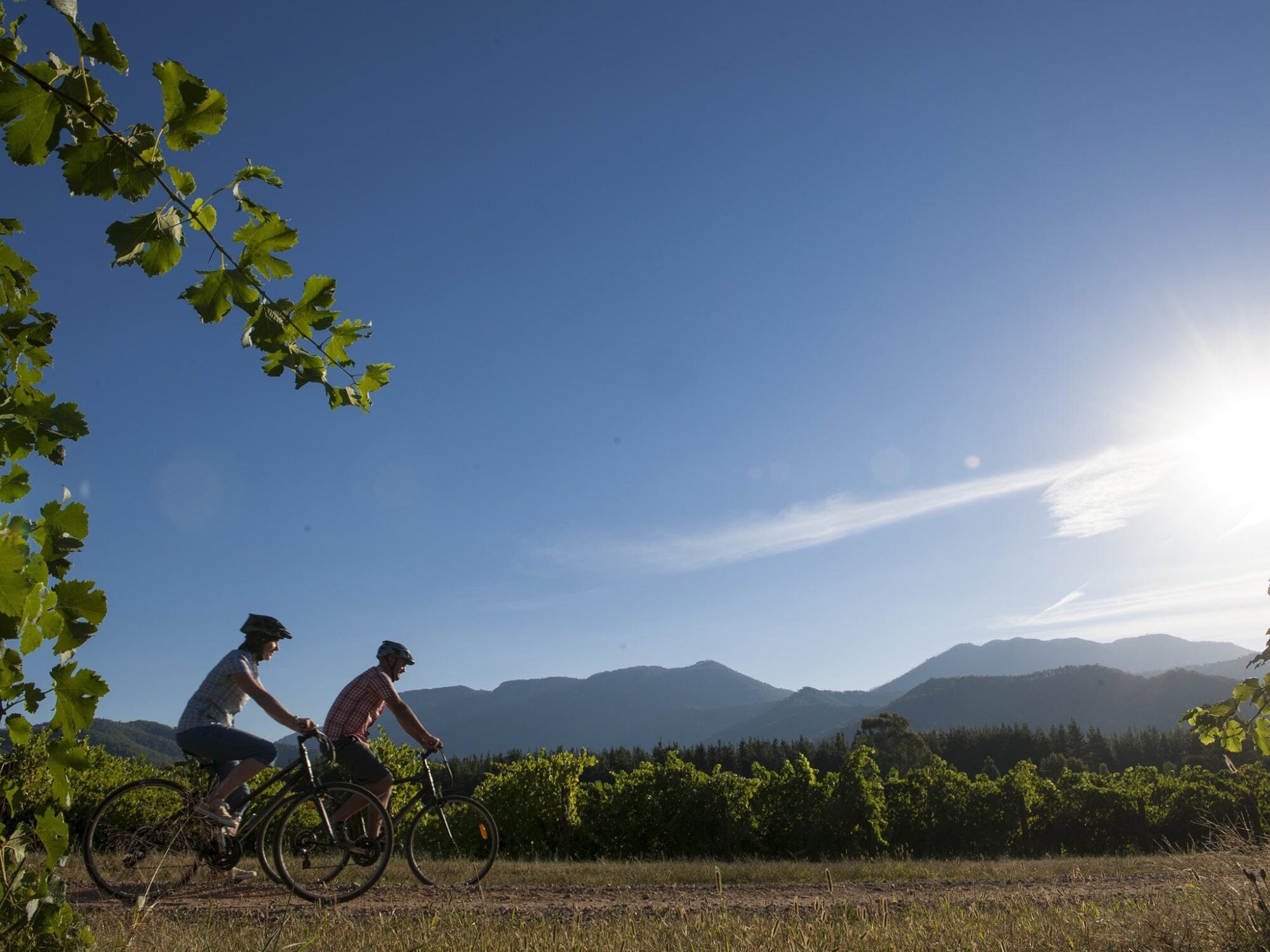 Murray to Mountains Rail Trail
The Murray to Mountains Rail Trail is the perfect way to discover the diverse and ever-changing landscape of North East Victoria – from natural bushland to verdant farmland, delightfully unexpected hidden valleys and some of Australia's most spectacular mountain ranges. Along the ride (no matter which leg you choose) you'll savour some of Australia's finest…
The Rail Trails and shared paths in the Ovens and Kiewa Valleys are popular trails used by both walkers and cyclists, and sometimes horses. To ensure your enjoyment, and the enjoyment of others, please share the trail and be courteous to other users, respect the natural environment and be considerate of residents that live nearby. Thank you and enjoy!
Keep left and do not obstruct the trail for those who may like to overtake you
Move off the trail when you stop to let others pass
Cyclists, when overtaking, alert others of your presence by calling out "passing on your right" or ringing your bell
Cyclists, reduce speed when overtaking
Always slow down and keep a safe distance if approaching horses
Dogs are permitted on the rail trails and shared paths
Please keep your dog on a leash and under control while using the trail
Carry dog poo bags and clean up after your dog. Never leave a dog poo bag on the ground or tied to a tree – take it with you and dispose of it in a bin. We recommend the use of environmentally friendly plastic-free compostable bags.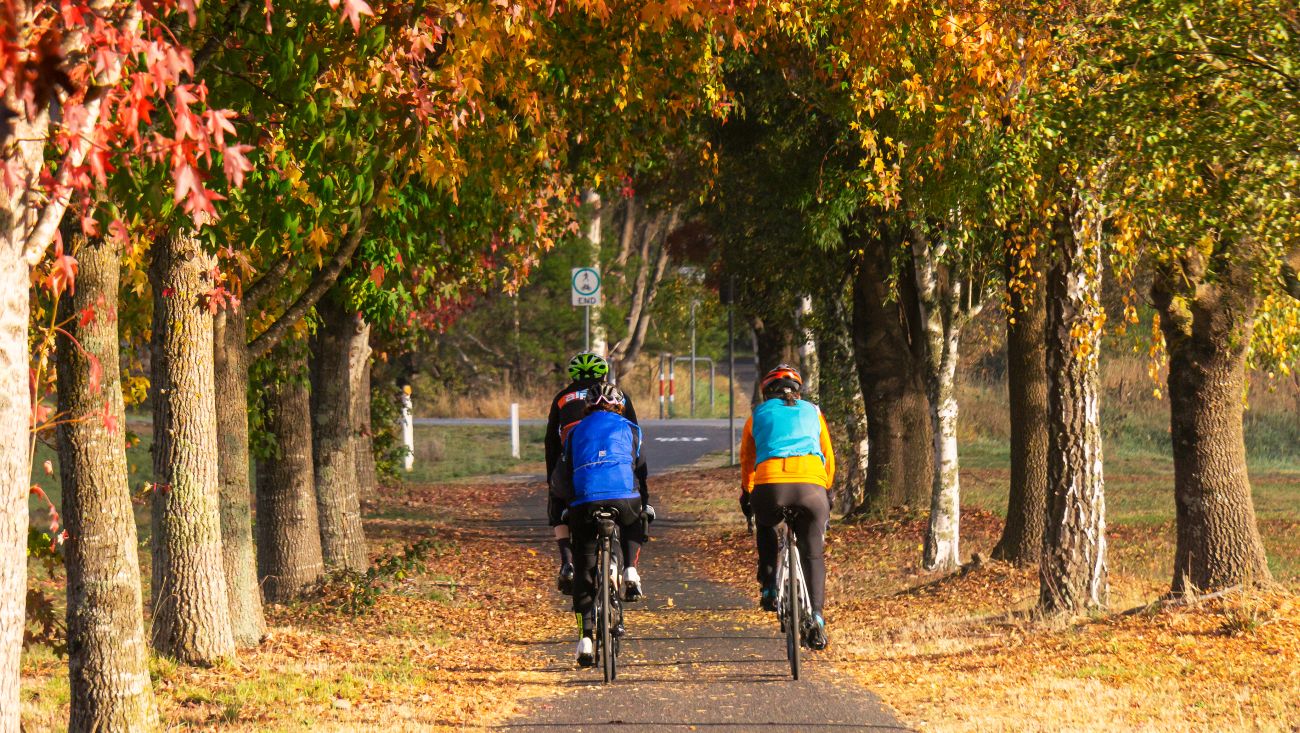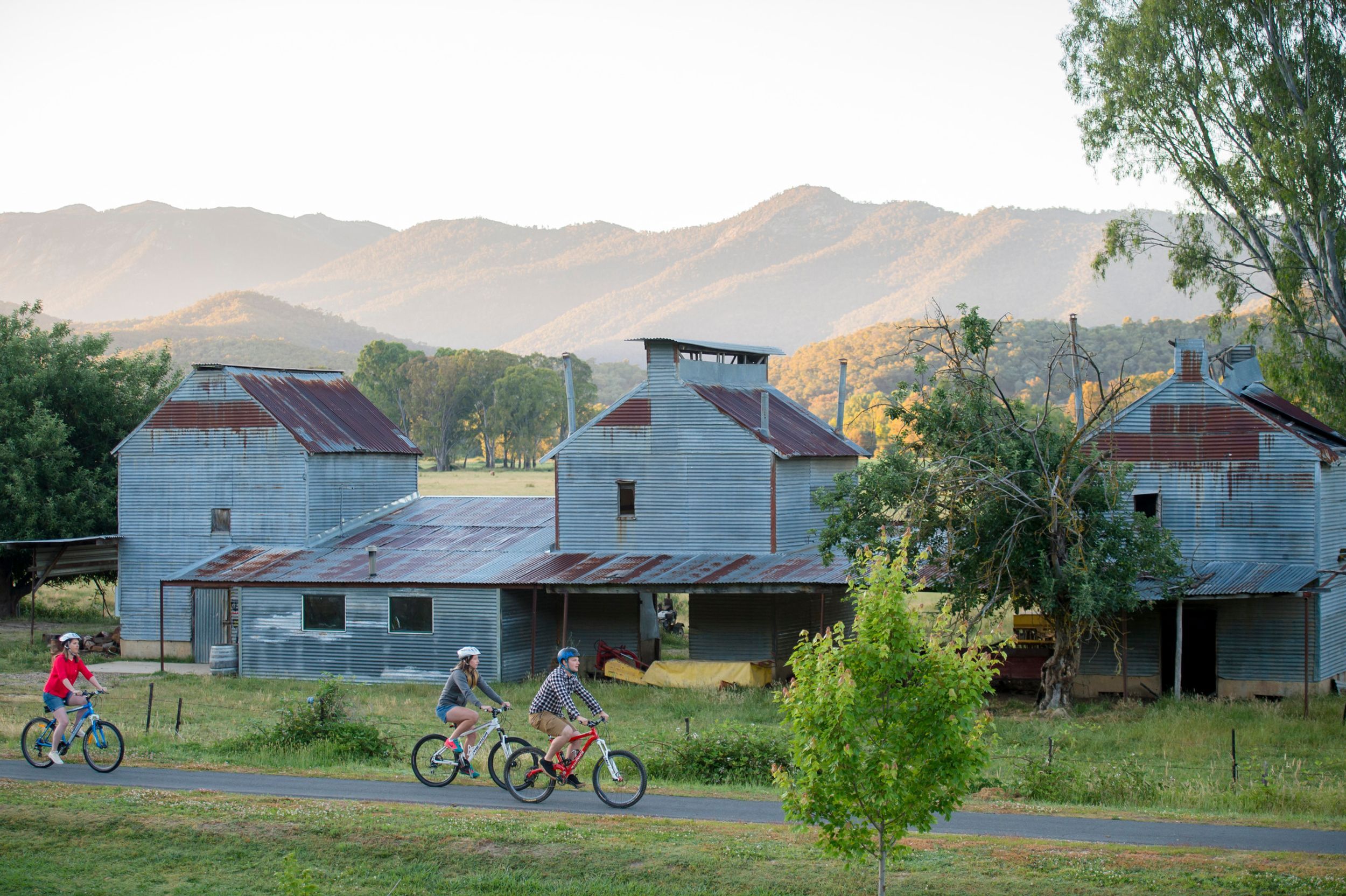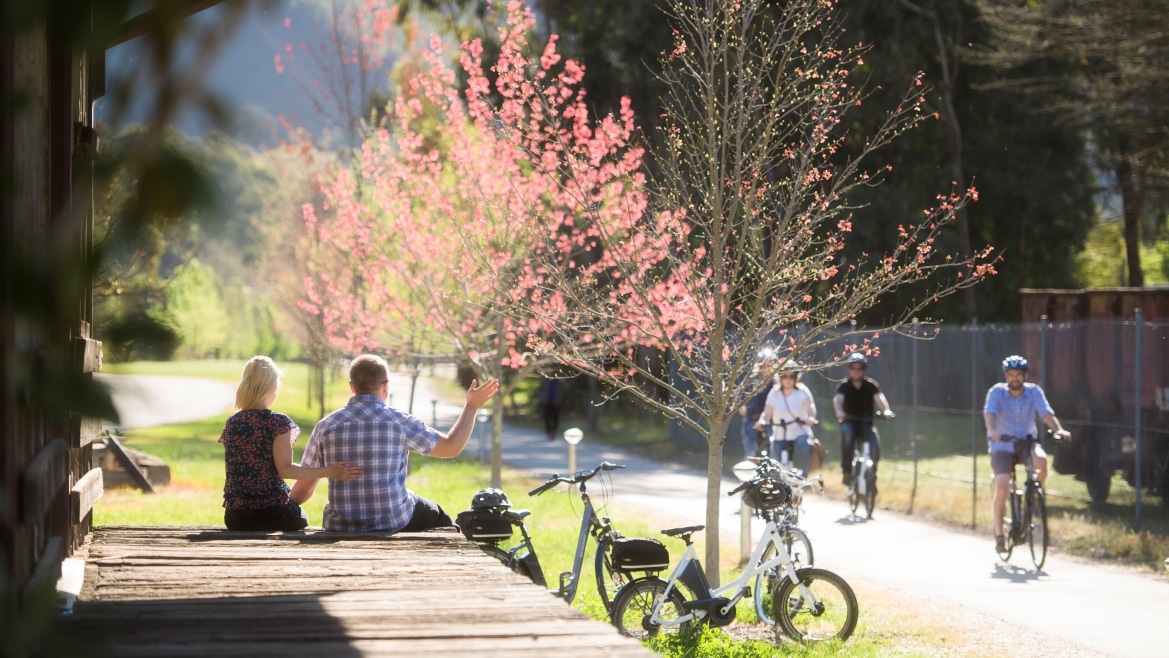 Never litter. If a bin is not nearby, it is important that you take your rubbish with you. Our region is home to a number of endangered species, such as platypus, for which litter can cause death, injury or serious illness.
Keep to the track while walking or cycling to avoid cutting new paths alongside the trail
Do not remove or damage native plants
Do not feed or interfere with wildlife
Never light a fire on a Total Fire Ban day
Cyclists must wear a helmet while riding.
Always stop at road crossings and give way to vehicle traffic.
Young or inexperienced cyclists should dismount when crossing a road.
Carry drinking water and snacks.
Cyclists, carry repair and first aid kits.
Observe signage and regulations.
In an emergency, look for your nearest Emergency Marker to help emergency services find you. Emergency Markers are located every 1km along the Rail Trail.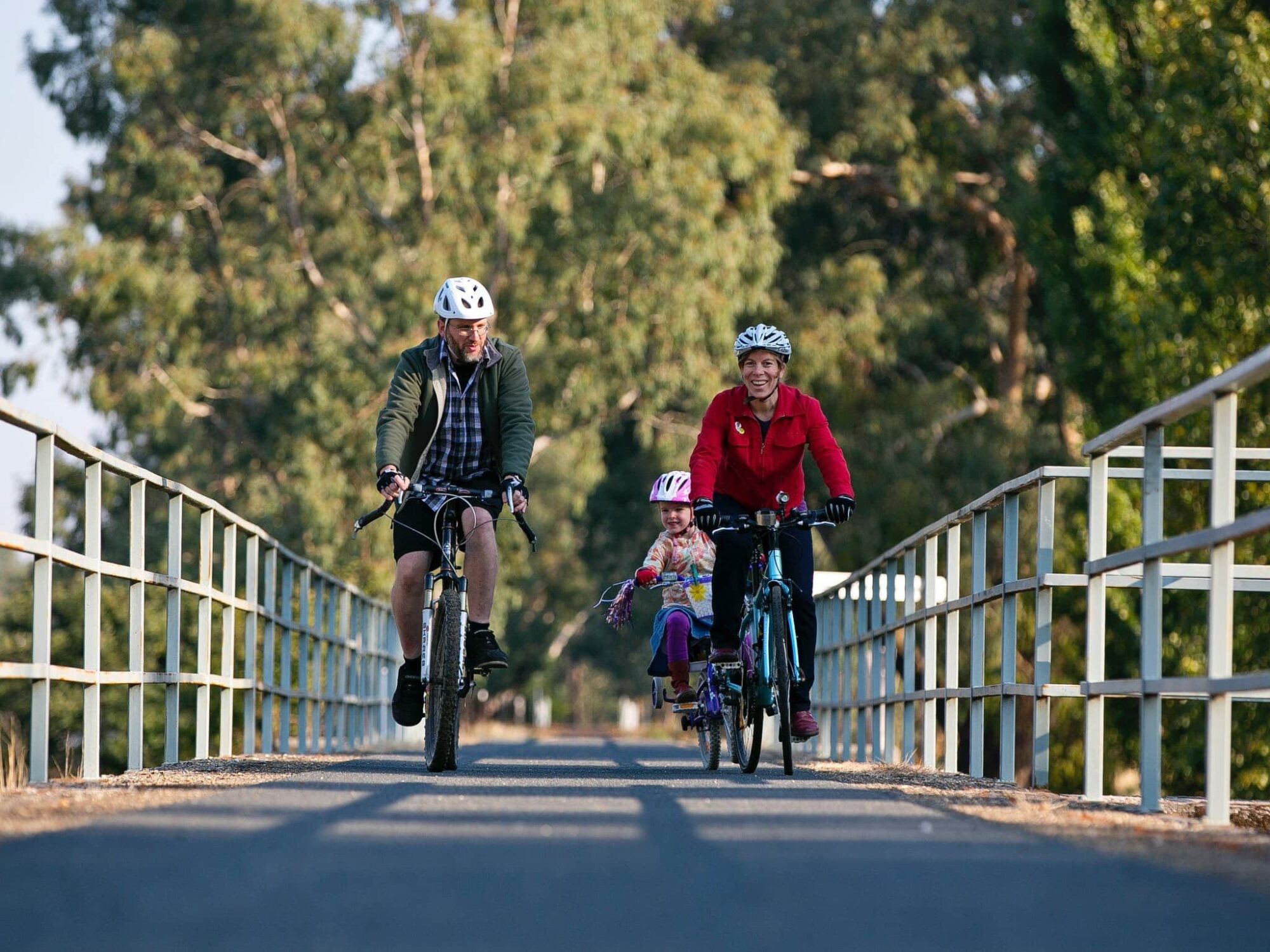 Myrtleford Cycle Centre
Located on the marvellous Murray to Mountains Rail Trail in North East Victoria, Myrtleford Cycle Centre is a family-owned and operated, full-service bicycle shop. Stop by for professional repairs, parts and accessories, hire bikes, cycle tours and more. The hire bike fleet comprises a large selection of comfortable regular pedal or electric bikes, perfect for…
OTHER EXPERIENCES YOU'LL LOVE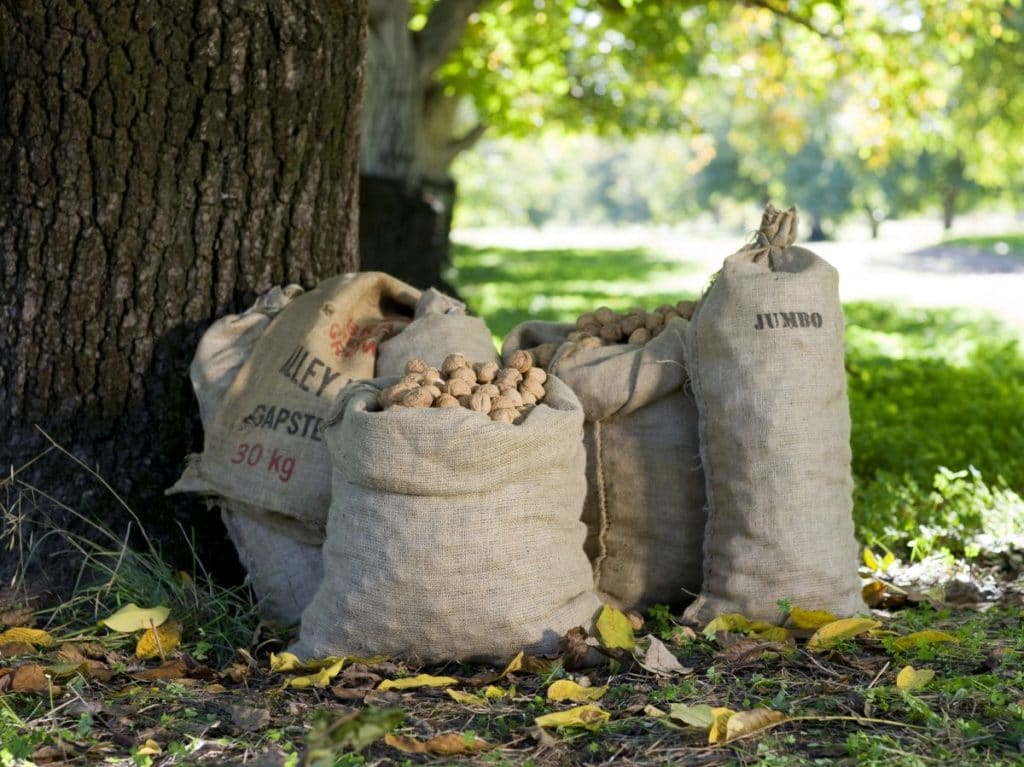 FRESH PRODUCE & ARTISAN WARES
From farmers markets to flea markets, here's when and were you'll find them.
Crisp cool nights and warm summer days make the Alpine Valley one of the country's most delightful boutique wine regions.