KAYAKING, CAVING AND CLIMBING
You meet your guide Tim on a quiet bend in the Ovens River down behind the residential streets where no tourist would think to look.
Standing there with eight others in your wetsuit listening to Tim's safety briefing as the river surges by, you start to feel nervous. But nerves will have to wait – it's time to launch.
Tim holds the kayak steady as you step in, heart pounding. This is what it's all about, right? Pushing yourself to the limits, living on the edge. Besides, how hard can it be? It's a beginner's run after all – at least, that's what you tell yourself.
One by one you push out into the current; the water quickens beneath you, its rippling white fingers reaching up and pulling you along.
"Stay left," Tim yells. You thrust your paddle ahead to your right and turn your torso as you stroke. Amazingly, your kayak moves left. You smile proudly.
The pace quickens. You move through some boulders, your hips pivoting beneath you as you keep your torso straight. Sunlight flickers on the water's surface as you carve your way down the river. Birds in the towering gums along the water's edge watch on, calling out songs of encouragement.
Up ahead, you notice the water drop over an edge to a place you can't quite see. The kayak moves toward it, faster and faster and you realise you're going to go over. You stop breathing, you try to keep straight, and then the moment arrives: you plummet over the edge, landing, thankfully, upright.
Woah, you laugh, realising you only dropped 30cm or so.
The hour passes as fast as the water runs, and soon you're helping to drag your kayak out of the river near a footbridge. A minibus is there to take you back.
"How was that?" beams Tim, reading your smile as he collects your wet gear. "You should come back for one of our other tours."
He hands you a brochure: 'Rock climbing, abseiling, caving, kayaking and paddleboard hire'.
You're keen, but those adventures are for another day. There's still so much you haven't done… like visit the brewery. And you've had your heart set on going to the snow for a sled dog ride.
The clock is ticking. Which one do you do next?
Choose your next adventure, or scroll down for more outdoor activities
Bright has two fabulous outdoor adventure companies that offer a wide range of activities, including kayaking, rock climbing, abseiling and caving as well as winter snow shoe tours. Check out both Adventure Guides Australia and Bright Adventure Company to find a tour that suits your style.
ROCK CLIMBING & ABSEILING
Abseil or rock climb the awe inspiring granite formations of Mount Buffalo with experienced guides. These activities are most suited to summer due to harsh winter conditions in the alpine areas, although alternate locations are available during the colder months.
This fun and easy activity is well suited to summer when the river runs gently. Hire your paddleboard from Bright Adventure Company and head out on the still water at the Bright River Pool or Porepunkah River Pool. Kayaks are also available for hire. A great activity for families.
Kayak the scenic Ovens river anytime of year. In winter, the river runs fast and high, making it an ideal white water rafting experience, while in summer when water levels drop and the current slows, it's perfect for a leisurely float that allows you to settle in and enjoy the views.
Escape the heat in summer and head underground on a caving tour of Mount Buffalo. Choose between adventures in the underground river cave or a dry canyoning tour that can include everything from abseiling, rock climbing, rock scrambling and ladder climbs.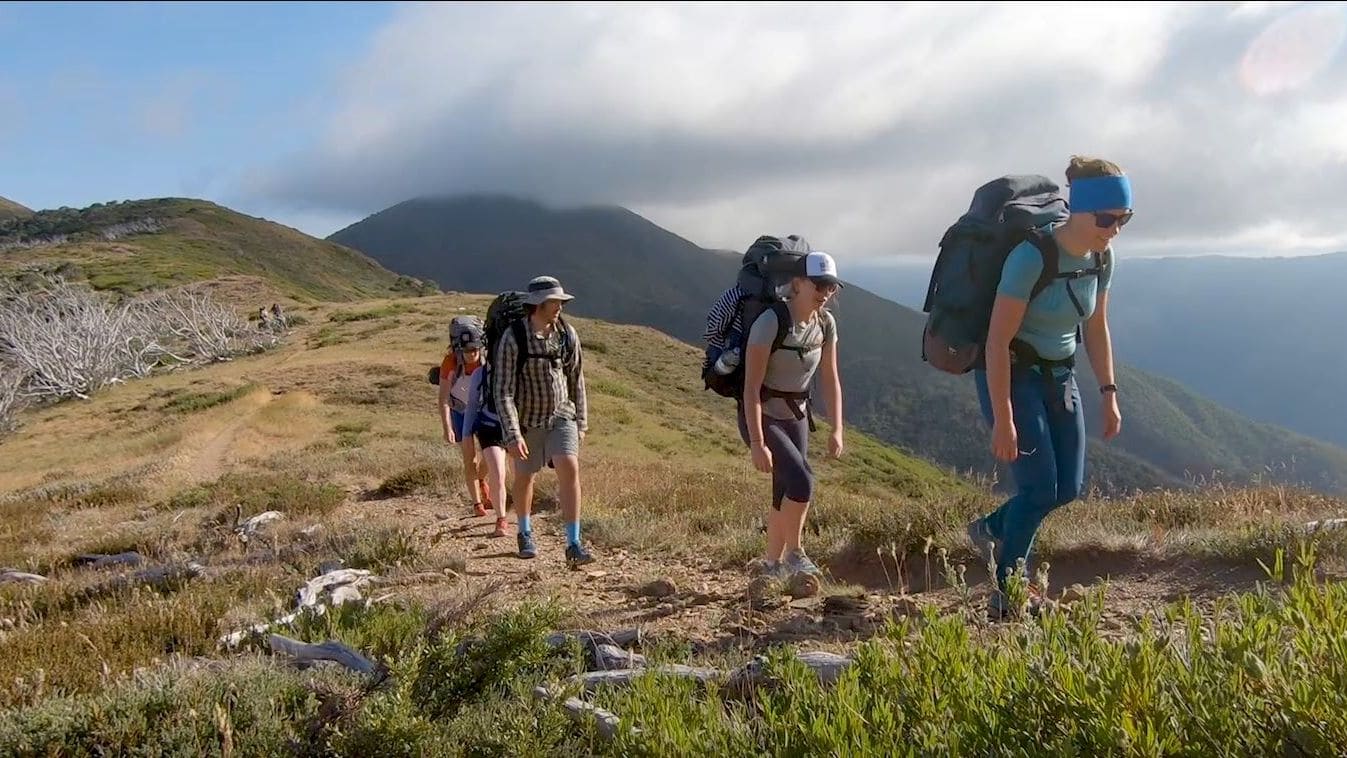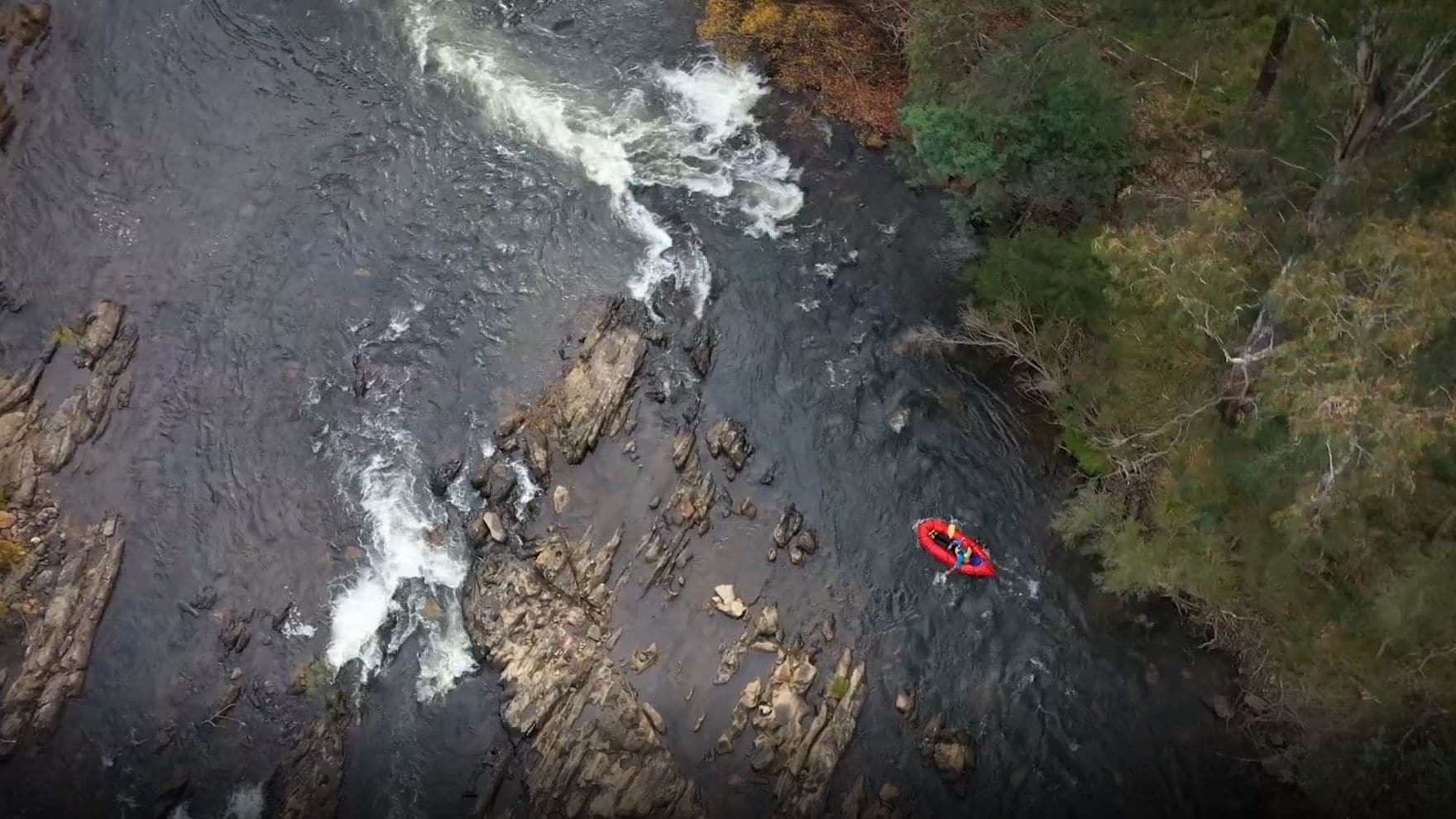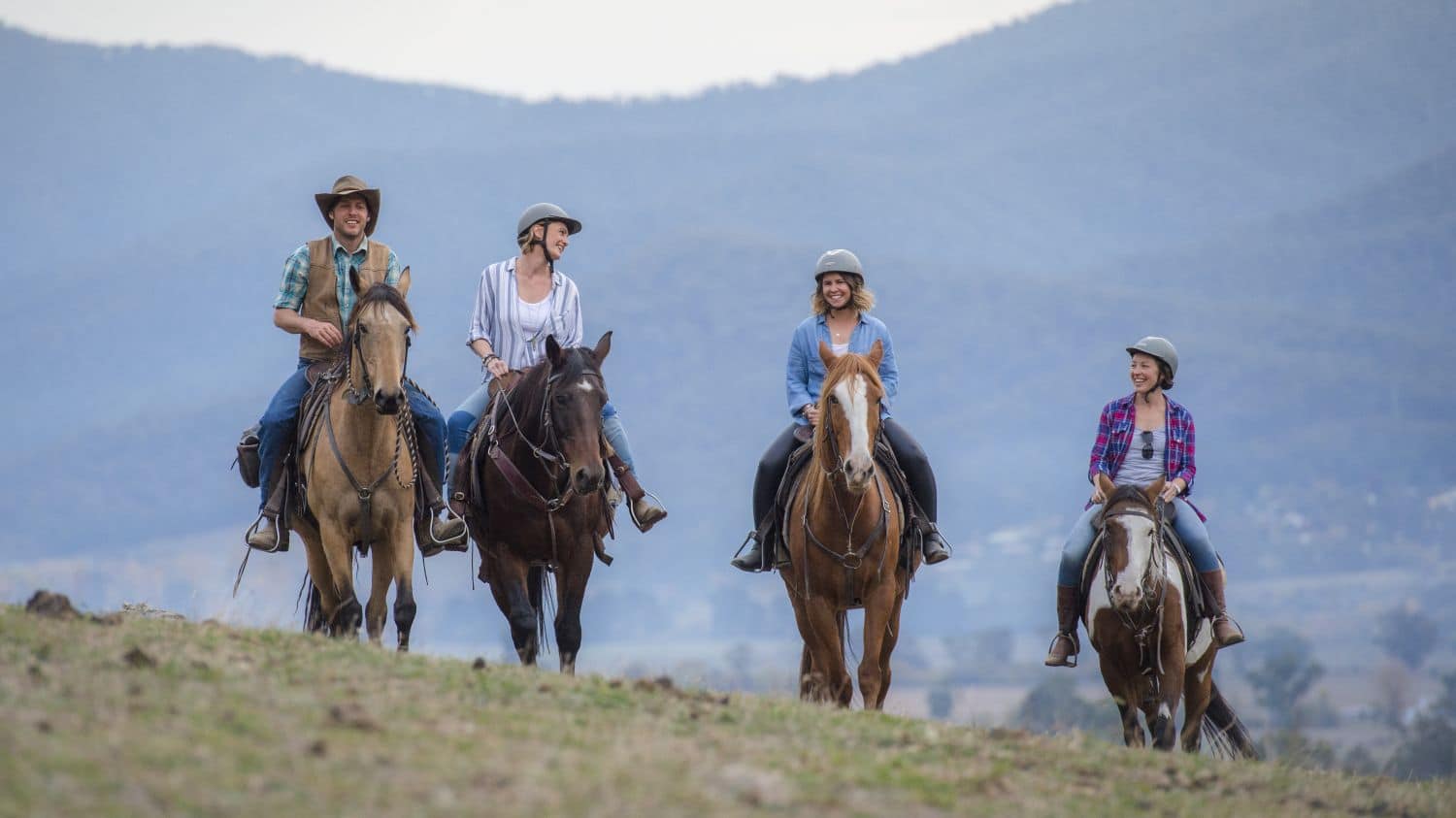 Are you looking for a guided hiking adventure on the alpine peaks? Try Hedonistic Hiking for a full-service walking tour with experienced guides.
These picnics are not for the faint hearted. Perfect for winter when the cliffs of Mount Buffalo are too dangerous to climb, grab a friend and hang over the edge instead – 300m above the valley floor. Your hanging picnic rug comes complete with a packed picnic lunch, helmet and safety harnesses. Enjoy!
Experience the alpine landscape 'Man From Snowy River' style on a guided horse ride with Bogong Horseback Adventures based in the stunning Kiewa Valley.
Take a dip in the river or cool off at a lake. Our natural swimming spots are the ideal way to spend a hot summer's day.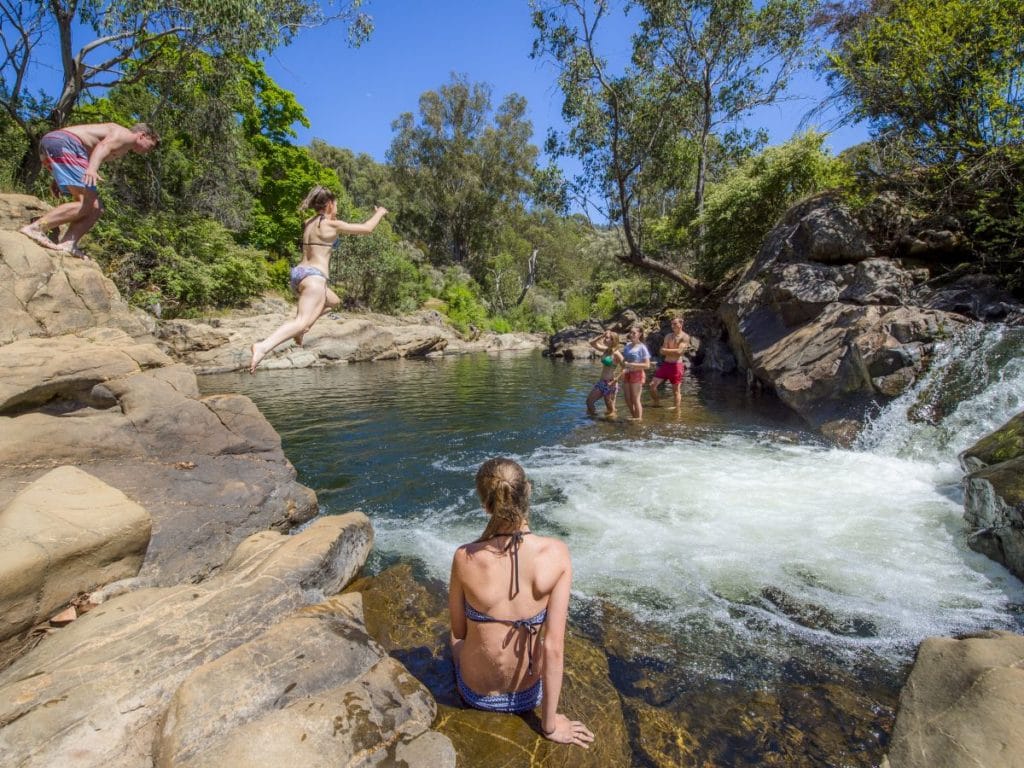 From snow to bushfires, floods and gale-force winds, the weather in the High Country can be fierce and change rapidly. Always check conditions before venturing out, ensure your equipment is working and carry adequate food, water and warm clothing. Importantly, download the VicEmergency and the Emergency Plus apps to your phone.
Notify someone of your plans before you set out. Many parts of the High Country have poor or no mobile phone coverage. In remote areas, emergency beacons and satellite devices are recommended for your safety.
Our region is sensitive to human presence. We are privileged to have endangered animals such as platypus, pygmy possums and alpine dingoes surviving in our environment. Your behaviour has a direct impact on our flora and fauna. When driving or riding, stay on formed roads and don't cut new lines. Protect our wildlife and the beauty of our environment by taking all rubbish with you.
Never light a fire on a Total Fire Ban day. When fires are permitted, always extinguish your campfire completely before leaving. Enjoy our outdoors, and remember, leave no trace.
OTHER EXPERIENCES YOU'LL LOVE
Beginners-Burstons Crevasse Dry Canyon Half-day (3-4hrs)
An adventure that can include an abseil, rock climbing, rock scrambling and more. The views which are seen while moving through the crevasse can be breathtaking, especially coming out from under boulders and rock shelters.This experience is provided by Adventure Guides Australia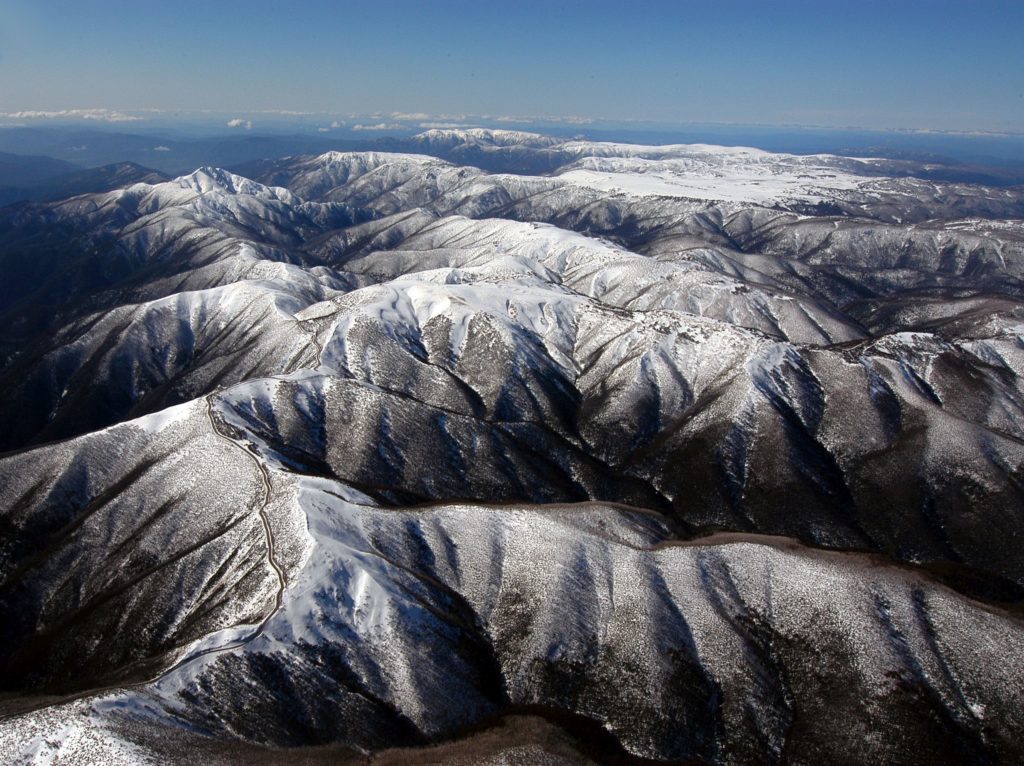 Experience the uniquely Australian beauty of the Victorian Alps, an alpine environment like no other in the world.