Dotted throughout the High Country around Mount Hotham, Dinner Plain and Falls Creek survive over 60 historic huts of timber, stone and corrugated iron, the earliest of which dates back to 1889. Some were constructed by the mountain cattlemen of yesteryear, others by gold miners or those working on the precipitous road over the alps. In more recent decades, some were built as emergency shelters for skiers and hikers. Dozens more huts, since lost to bushfires and harsh weather, once graced the High Country. Those that remain tell stories of adventure, adversity and resilience. Some are easily accessible by road or short walks, others require a hike or overnight stay. All are remarkably beautiful in their simplicity, inviting in their protection, and stunningly situated in one of Australia's most scenic landscapes.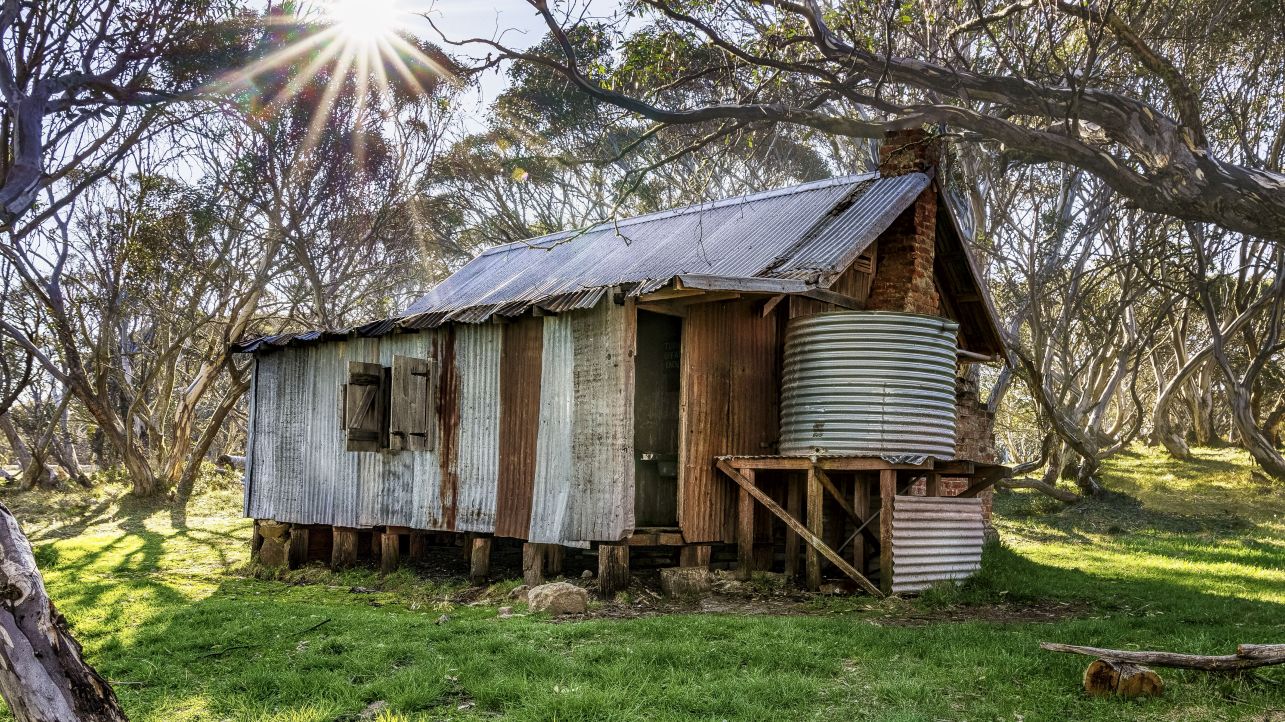 Built by the Wallace Brothers in 1889 from slabs of snow gum, the National Trust-listed Wallace's Hut is the oldest Cattleman's hut remaining in the Alpine National Park. Much of the hut's furniture dates back to this time, including the bush table, shelving and mantlepiece. In the 1930s, it was taken over by the State Electricity Commission for use as a workers' hut. Its woollybutt roof shingles were covered in corrugated iron at this time, although can still be seen from inside. Today, Wallace's Hut is used as an emergency shelter for hikers and it's a popular place to picnic on a bushwalk. Overnight stays are discouraged except in an emergency.
HOW TO GET THERE
Wallace's Hut is easy to access via a short 1.5km-return walk along a wheelchair accessible path. The path starts from the Wallace's Hut car park 7.5km past the Rocky Valley Storage dam wall on Bogong High Plains Road, Falls Creek. Those looking to make a day of it may enjoy a 13km-return scenic hike along the Wallace's Heritage Walking Trail to Cope Hut, although Cope Hut can also be reached by a much shorter walk from the main road.
The original Kelly Hut was built of woollybutt slabs with a shingle roof around 1901 and used as a cattleman's hut. It was destroyed by fire in 1956. The Kelly Hut you see today is believed to have been built in 1928 as a survey hut in Rocky Valley before being purchased from the State Electricity Commission by the Kelly family and relocated to the current site in 1958.
The nearby Fitzgerald's Hut was built in 1993 using old sleepers from the Nullabor Plain after the original hut, located to its west, burnt down in 1991. The old hut made of woollybutt palings with a shingle roof, was built by George Fitzgerald in 1903 as a cattleman's hut. The fireplace, which now lies in a pile of rubble, is the only remaining sign of the original hut.
HOW TO GET THERE
This scenic 10km-return walk starts along the Big River Fire Track, which you'll find about 1.6km past the Rocky Valley Storage dam wall along Bogong High Plains Road, Falls Creek. Follow the track over grassy snow plains with magnificent views, and into old snow gum forest. Take Marum Point Track to your right at pole no. 740. About 500m further along, take Kelly's Track on your left to Kelly Hut. Fitzgerald Hut is a further 700m along the trail. The huts can also be accessed by walking the Langford East Aqueduct Road, which is a similar distance.
There are four huts located in this little enclave, three of which were State Electricity Commission (SEC) huts and one that was used by cattlemen, with cattle kept in a nearby grazing yard. The current site was established in the 1950s when a SEC hut believed to have been built in 1928 was towed in from Pretty Valley. The fourth SEC hut – a cookhouse – burnt down in 2000 and was rebuilt. A site 250m north of the existing huts was once home to a hut built around 1888. It collapsed and was replaced twice before the new site was established.
HOW TO GET THERE
From Bogong High Plains Road in Falls Creek, turn south onto Sun Valley Road and then then onto Pretty Valley Road and follow it 8km to the Pretty Valley Pondage. The final 2km are rough and corrugated. The 8km-return walk starts from The Pondage along the Fainter Fire Track and reaches an elevation of 1,814m.
Cope Hut was built by the Ski Club of Victoria in 1929 after the state experienced a surge in skiing in the 1920s. It was the largest hut of its day on the High Plains and became known as 'The Menzies of the High Plains' by skiers and walkers because of its size and comfort. A nearby stream provides the hut with running water.
HOW TO GET THERE
Cope Hut is reached by an easy 800m-return walk that starts at a parking area 9km past the Rocky Valley Storage dam wall on Bogong High Plains Road, Falls Creek.
Roper's Hut is a popular destination along the Australian Alps Walking Track (AAWT). The original Duane Hut was built here in the early 1900s. It burnt in 1926 and was replaced by Roper's cattleman's hut in 1939. It burnt in the 2003 fires and a new refuge hut was built in 2008.
HOW TO GET THERE
This 20km-return walk follows the Big River Fire Track, which you'll find about 1.6km past the Rocky Valley Storage dam wall along Bogong High Plains Road, Falls Creek. Follow the track past the signposted turnoffs to Edmondson Hut and Johnston Hut and the exposed rounded summit of Mount Nelse until you reach pole no. 902 at roughly 8.5km. Follow the AAWT to the hut.
HUTS NEAR MOUNT HOTHAM & DINNER PLAIN
The heritage-listed Spargo's Hut was built around 1927-8 by Bill Spargo for his gold prospecting activities at Golden Point. Spargo was Supervisor of the Hotham section of the Alpine Road for the Country Roads Board (CRB) in the early 1920s and, with permission to run a guest house on the mountain, was influential in the establishment of Mount Hotham as a recreational skiing location. He later discovered the rich gold-bearing Red Robin reef on Machinery Spur in 1941.
HOW TO GET THERE
From Mount Hotham, this moderate 11km-return walk starts at the Mount Loch car park 800m north of the village. Follow the Australian Alps Walking Track (AAWT) along the ridge, with impressive views of Mount Hotham and Mount Feathertop. At pole no. 84, leave the AAWT and take the old mining track to your right until you reach Spargo's Hut in 1.9km.
Standing on a snow plain beside the Cobungra River on the Australian Alps Walking Track (AAWT) between Mount Hotham and Falls Creek, the walk to Dibbins Hut makes a rewarding return hike or overnight stop on the through journey. The original Dibbins Hut, built in 1917 by cattleman Arthur Dibbins, fell into disrepair and a new hut was built on the same site in 1987 using a similar design. The walk to Dibbins takes you past the Derrick Hut day shelter, which was built in 1967 as a memorial to Charles Derrick who perished while cross-country skiing between Mount Hotham and Mount Bogong.
HOW TO GET THERE
From Mount Hotham, the walk is a moderate 18km-return journey that starts from the Mount Loch car park, 800m north of the village. Follow the pole line on the AAWT past Derrick Hut at the 4.3km mark and continue down Swindlers Spur to the hut near pole no. 187.
The easily accessible JB Plain Hut sits in a sheltered snowgrass plain overlooking the Dargo High Plains and is thought to have been built in the late 1940s near Swifts Creek. It was moved to its present position in the 1970s by Cobungra Station and the Bairnsdale Scout Group. There is some uncertainty about who JB was, but most attribute the initials to belonging to Jim Brown, a pioneering stockman who worked at Cobungra Station and is said to have carved his name on a tree in the plain. The scant remnants of a hut predating JB Plain Hut can be seen about 300m to the hut's south on the edge of the tree line. It is thought the earlier hut was built by Cobungra Station in 1934 and demolished in 1989.
HOW TO GET THERE
JP Plain Hut is an easy 250m walk along a path that starts at a parking area on the Great Alpine Road, and which is located 1.4km west of the entrance to Dinner Plain Alpine Village. The hut also sits aside the Brabralung Trail that runs between Dinner Plain and Mount Hotham and can be walked or cycled in summer. The trail is groomed for cross-country skiing in winter.
Built around 1923-25, this old corrugated iron Country Roads Board (CRB) hut is said to be one of the best preserved CRB huts in Victoria. The hut was one of a series built along the Alpine Road for the patrolmen and is easily seen from the road itself. The original dirt floor is now covered with timber.
HOW TO GET THERE
Dinner Plain (CRB) Hut can be seen a few metres off to the north side of the Great Alpine Road on the western approach to the entrance to Dinner Plain Alpine Village. Parking is available in the village and it is a short walk across the road to see the hut close up. The hut's easy location makes it a great option for viewing in the snow.
Experience the uniquely Australian beauty of the Victorian Alps, an alpine environment like no other in the world.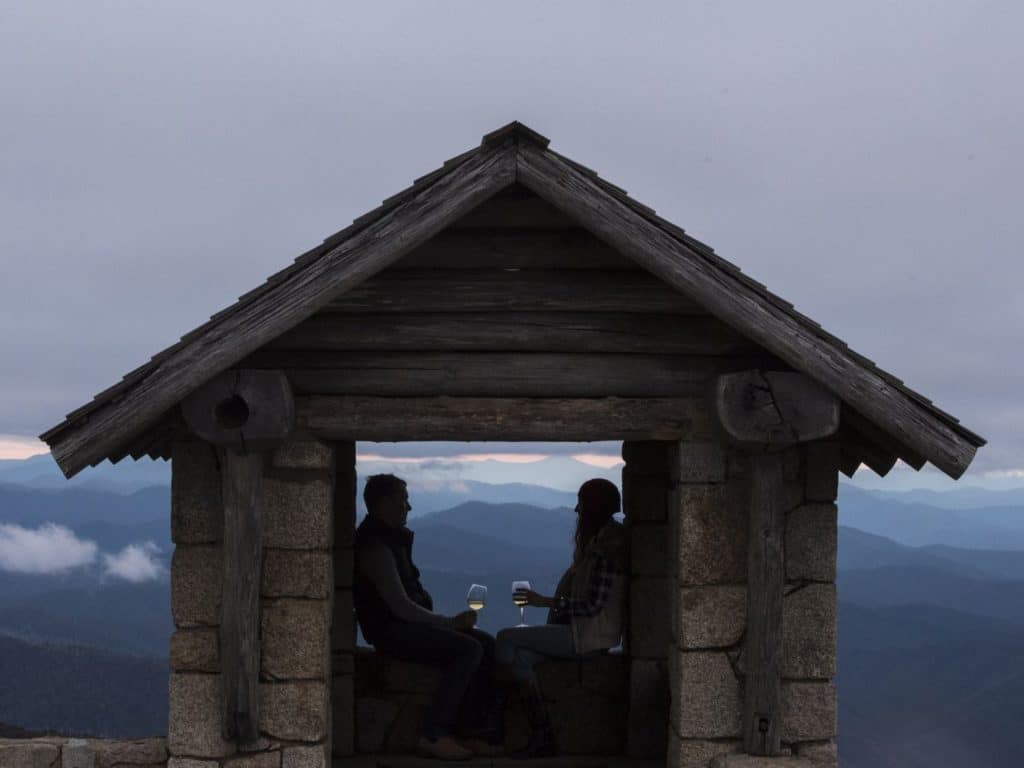 The huts of the High Country are cared for by a passionate group of volunteers that carry out repairs and maintenance in cooperation with Parks Victoria and the Department of Environment, Land, Water and Planning. The huts not only have significant heritage value, but serve as a lifeline to hikers and back-country skiers in need of emergency shelter in the rapidly changing weather conditions of the Australian alpine peaks. Please respect the huts and their surrounding environment by following the Victorian High Country Huts Association's code of conduct.
1. Respect the hut's heritage and caretakers
The hut and its surroundings are an important piece of our Australian heritage. Many have been standing for decades and are now cared for by volunteers. Please treat the hut with respect.
2. Huts are for shelter, not accommodation
The huts are mostly free and open, and there for all to visit and enjoy. However, most are not approved for overnight accommodation unless in emergency situations. Take your tent and swag and sleep outside the hut.
3. Never rely on a hut being available to you
Sometimes a hut may be inaccessible or closed because of safety reasons. You should always be fully self sufficient and have alternative options available.
4. You must share the hut
Huts are a resource for everyone. You can't deny access to others if they want to take shelter in the hut.
5. Fires are the biggest risk to you and the hut
Fires that are far too large for the type and size of fireplace are very dangerous. These have resulted in the loss of many huts and they are a risk to occupants. If you have a fire, keep it a sensible size and never leave it unsupervised. Observe Total Fire Ban Days and be bushfire aware.
6. Got 'to go'?
If there is a drop or composting toilet, use it. If not, walk at least 100 paces from the hut or campsite. Dig a hole at least 15cm deep and cover your excreta. Do not leave toilet paper on the ground.
7. When you leave...
Always leave the hut clean and tidy
Take all your food, belongings and rubbish with you;
Restock the firewood;
If there is a broom, sweep the floor;
Ensure the fire is completely out by dousing with plenty of water; and
Close the doors and windows securely to prevent animals entering. Thank you!
From snow to bushfires, floods and gale-force winds, the weather in the High Country can be fierce and change rapidly. Always check conditions before venturing out, ensure your equipment is working and carry adequate food, water and warm clothing. Importantly, download the VicEmergency and the Emergency Plus apps to your phone.
Notify someone of your plans before you set out. Many parts of the High Country have poor or no mobile phone coverage. Emergency beacons and satellite devices are recommended for your safety.
Our region is sensitive to human presence. We are privileged to have endangered animals such as platypus, pygmy possums and alpine dingoes surviving in our environment. Your behaviour has a direct impact on our flora and fauna. When outdoors, stay on formed paths and roads and don't cut new lines. Protect our wildlife and the beauty of our environment by taking all rubbish with you.
Never light a fire during a Total Fire Ban. When permitted to light a fire, always extinguish your campfire completely before you leave. Enjoy our outdoors, and remember, leave no trace.
OTHER EXPERIENCES YOU'LL LOVE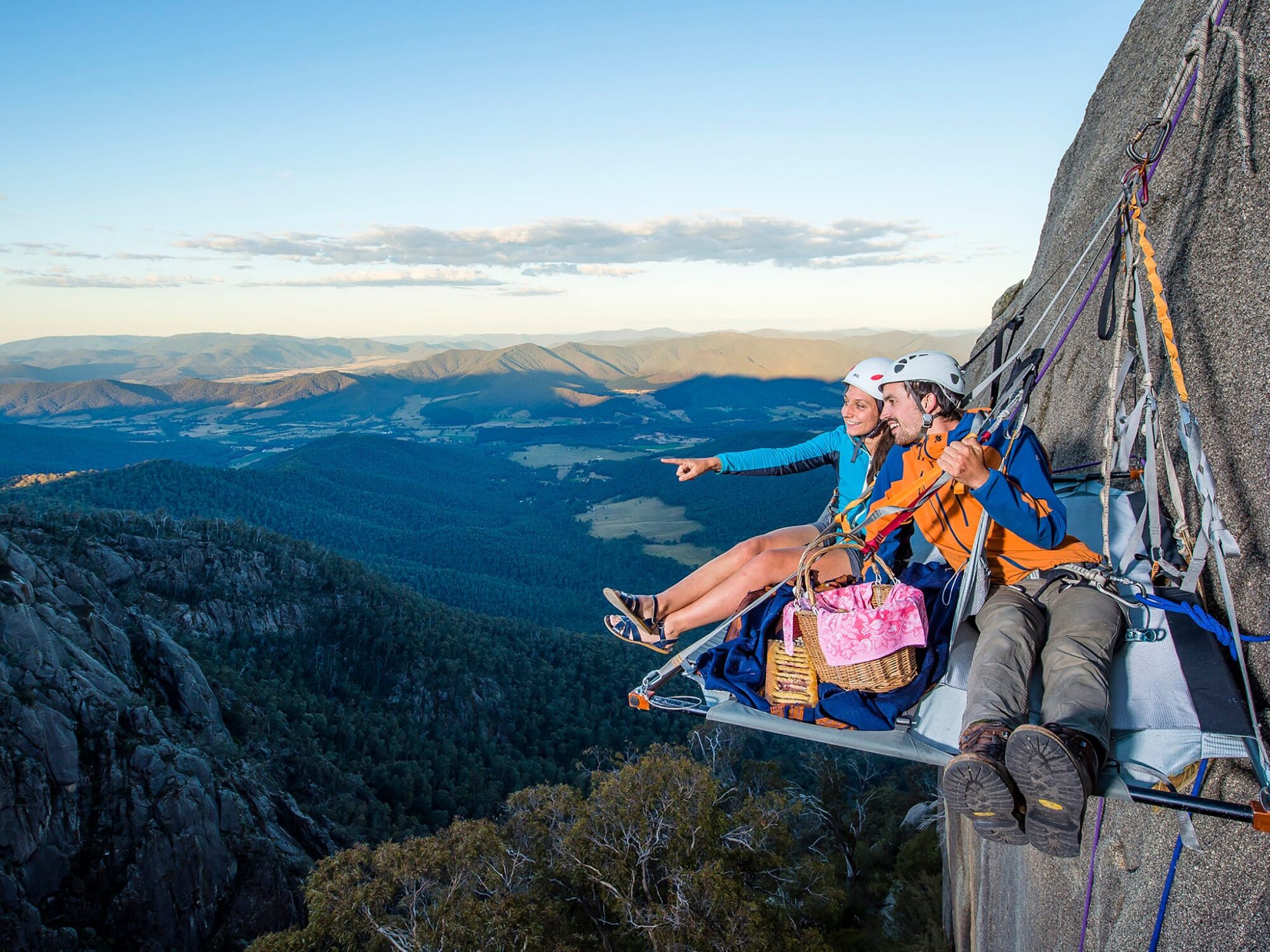 Bright Adventure Company
Bright Adventure Company is an adventure tour operator based in Bright delivering tours throughout Victoria's stunning High Country. With a focus on delivering safe, exciting and memorable experiences to all customers. Offering rock climbing, abseiling, cliff picnics, whitewater kayaking, hire and guided mountain bike tours to all levels of ability.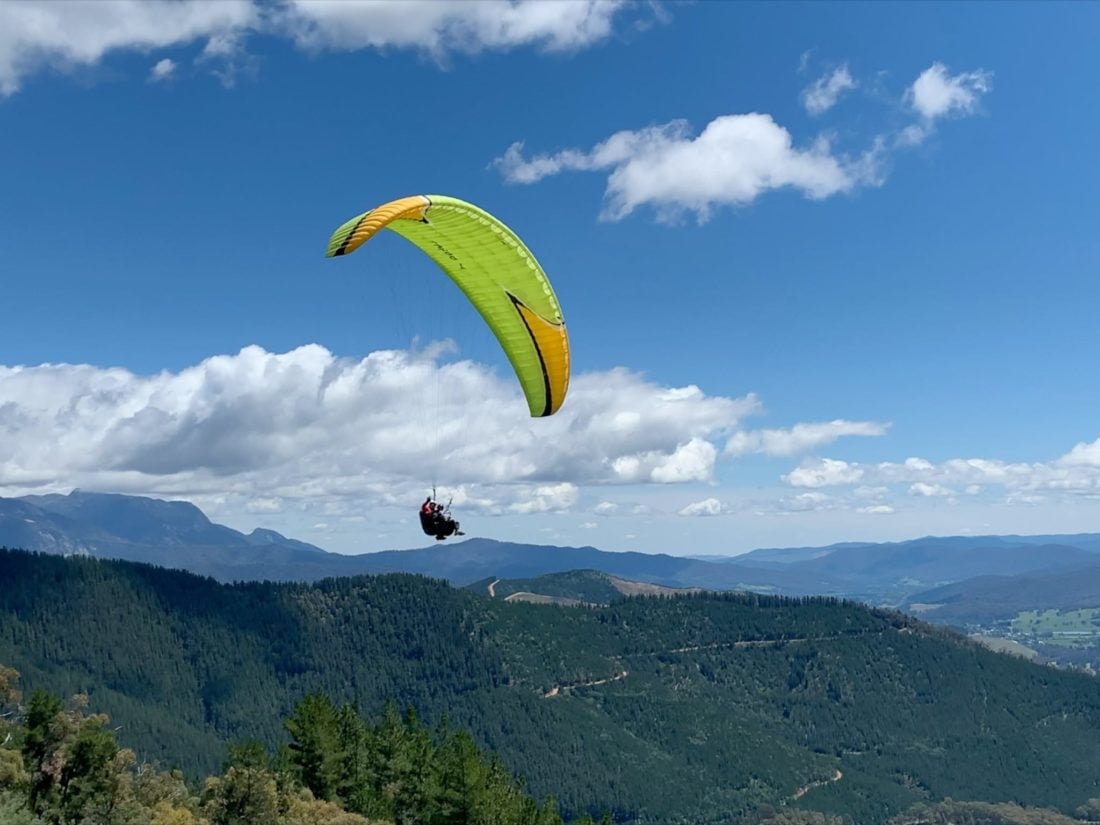 Glide silently around the peak of Victoria's highest mountain, or soar on a tandem paragliding flight from the Southern Hemisphere's best launch.