Four Wheel Driving and Dirt Biking

The Alpine National Park and state forests near Bright are filled with tracks and roads for four wheel drive and dirt bike enthusiasts...
Stony Tops Track - Mount Feathertop
A very pleasant and enjoyable 4WD discovery tour turning off the Great Alpine Rd at Germantown, the next left after the Mount Beauty turn off. Follow Dungey Track and Stony Top track up in to the snow gums with great vantage views of the North East face of the famous Mount Feathertop. Great place for a cup of coffee, tea, or picnic before you follow the same track back down. If you feel adventurous you can trek the 1.5hrs up to the Summit from this point. (Its not to be attempted unless you are fit, and well equipped. Possibly allow 2hrs each way for the walk). Track may have snow cover during winter.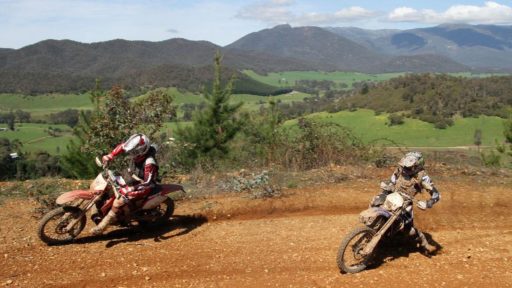 This drive is probably the most spectacular track in the high country. Drive along the Great Alpine Road and turn onto the Dargo High Plains Road, Blue Rag Range will be a track off to the right, as you are heading towards Dargo. It is a must for all four wheel drive travellers to the area however give the track the respect it deserves. It is very remote and over 1600 metres above sea level. Please do not go past Trig Point. There is only one way in and out. Be aware that snow may fall without warning at any time during the year, and Dargo High Plains Road is closed during the snow seaon. It has a few really steep rocky sections particulary just prior to the highest peak and the track drops off steep on both sides. Recommend at least two vehicles and experienced drivers.
Starting in Bright, turn into Star Road and then Toorak Road and Mount Porepunkah Road via Quinns Gap. Follow the signs to Mount Porepunkah where you will be rewarded with excellent views from the summit across Mount Buffalo and the Victorian Alps. Return via Mount Porepunkah Road (north), One Mile Creek Road and Great Alpine Road via Porepunkah.
Beveridge Station / Buckland River
Venture out of Bright following the famous Buckland Valley and Buckland river, heading in a Southerly direction for 35kms and enjoying views of the scenic face of Mount Buffalo along the way. Rich in history encompassing both early days of gold discovery and early high country cattlemen grazing, it is a great place to visit to learn and reflect of days gone by. Named after the Beveridge brothers who had large parcels of land accessing the Alpine High Country. Many tracks venturing out to the national park are accessable from this end of the valley so make sure you take a map and check them out. Why dont you make a day of it for swimming, fishing and take a picnic?
Demon Ridge – Wandiligong Circuit
Start this scenic drive in Bright on Bakers Gully Road, continue on to Clear Spot Road and then to Demon Ridge Road, following the signs to Clearspot Lookout. Clearspot lookout offers great views into Morses Valley, Mount Buffalo and picturesque views of the Great Dividing Range. Complete with directional trig point to help you identify the ranges and a picnic table to stop and picnic at - Clearspot lookout - only 13 kilometres from Bright town centre is definately worth the drive. Return via Clearspot Road, turning left onto Demon Ridge track and return to Bright via Wandiligong Road. Loop is approximately 36kms and will take between and hour and an hour and a half. Track is easy 4WD or rough 2WD and not suitable for wet weather conditions.
Goldie Spur track follows the SEC easement. The historic Goldie Spur track now follows the power line easement across mountainous forest. Skirting the southern edge of Mount Buffalo National Park (no access to Mount Buffalo National Park from here). Spectacular views to the rocky outcrops of the Horn and Back Wall.
Mount Murray Loop Drive - Alpine National Park
Mount Murray (1634m high) in the Alpine National Park south of Bright, can be reached in non-winter periods and overlooks the remote Selwyn Creek and the Blue Rag Range. The lookout may be reached by driving down the Buckland Valley, following the Buckland River Road past Bederidges station. Take the next left onto Mount Murray North Track and follow that until you come to the Twin Jeeps track, turn left until you come to the Mount Murray Track South, which will take you to the lookout. Drive back along the Twins Road to Mt St Bernard on the Great Alpine Road and back to Bright along that. A great 4wd loop in some of Victoria's most scenic country. Map recommended.
Made famous through the movie "The Man From Snowy River", the spectacular alpine high country of eastern Victoria must be one of the best regions in the world for4WD touring. Meet nature on its own terms in this park that protects the state's highest mountains and pristine alpine environments. Some of the tracks deep in the park are for experienced four wheel drivers only, but there are many other tracks where you can get away, enjoy beautiful views, and appreciate the quiet wonder of the alps.
Keen to go off road but want a guide?
Why not take a trip in an ex-Australian Army Land Rover 6x6 with Tour Of Duty Bright. Strap in and enjoy tourism at its best. Fun safe and exciting and priced for the whole family! For full details click here.