Just a few minutes by road from Bright or easy 5km peddle on the purpose-built cycle trail, this picture-perfect village on Morse's Creek is tucked away in a jewel of a valley patch-worked with apple orchards and nut groves.
In the 1860s Wandiligong teemed with gold miners and in its heyday its 2000-strong population built schools, churches, shops, a public library and hotels. Many still stand and today the entire town and its landscape are National Trust-classified.
The Diggings Walk with its Chinese Swing Bridge is a great way to discover the history of this magical little town.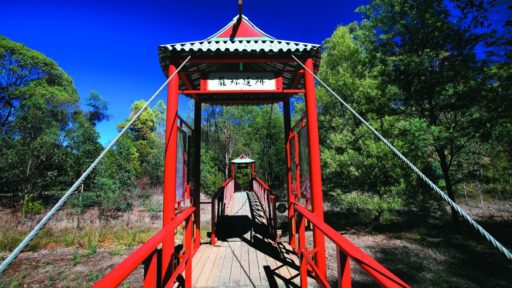 In 2003 the Wandiligong community put in place a swing bridge to commemorate the contribution of the Chinese. The bridge spans Morses Creek in the locality known as The Diggings, and it has been crafted to reflect a traditional Chinese design. Look out for it near the site of the main Chinese miner's camp. It can be accessed from Centenary Ave, via a short walk in the Diggings.
The fantastic Wandi Nut Festival held each autumn: brightvic.com/wandinutfestival
Getting lost in Australia's largest living hedge maze and reward yourself with their famous sponge cakes when you find the exit
The Diggings gold history walk
Pedalling or walking Bennett's Trail along Morse's Creek from Bright to Wandiligong
Stock up on seasonally available apples and chestnuts at Nightingale Bros
Lets the kids play in the Alpine Park
Immerse yourself in a little history at the Chinese Memorial Swing Bridge
Try your luck at fly fishing in Morses Creek
Pick your own Chestnuts, enjoy home made pizza at Wandiful Produce