RIDING MYSTIC MOUNTAIN BIKE PARK
It's been a while since you've been mountain biking, so the guy at the local bike shop where you're hiring the e-mtb says to warm up with something easy and fun, like Hot Wheels, the beginner trail at the base of Mystic Park.
"It may be easy, but you can have a heap of fun whipping around it," he said. "The pump track and BMX track next to it are worth a hit as well. Then head into the main park for some fun intermediate flow trails like Shred Kelly's Last Stand and Hero."
"I've heard people talking about Mystic DH," you say. "How hard is that?"
The guy looks momentarily stunned, then smiles and says with a friendly laugh, "Maybe save that for another day pinner. That's a double black downhill."
So off you go, snaking your way around Hot Wheels and feeling on top of the world. Bike riding does that to you. You've found your legs, so you cross into the main park. A shuttle vehicle full of full-face-helmeted mountain bikers and pulling a trailer of serious looking bikes passes by. Good call by the bike shop guy, you're not quite ready for that, but man do you have something to work toward.
You begin pedaling up the mountain via the climbing trail. Thank goodness you got an e-bike because your fitness isn't up to doing this without a little help. You switch back and fourth up Up And At Em then Up DJ around upward berms and tight corners. The climbing trail is Intermediate and you can definitely feel it testing you. Finally, you're near the start of the flow trail Shred Kelly's Last Stand. The guy said to take it easy. You hold your breath, and…
"OK, let's do this."
Man it is fast. You don't even need to pedal and it's like you're flying down a rollercoaster. You hit a roller and kick into the air more than you were expecting. Keep steady!
You snake around a corner, riding it high and then fly down a fast straight before crossing a forest road. The trail then curves widely back and forth, then up and down, over a timber structure and into some jumps. Woah!
"Yeeeeew," you shout.
Your heart is pumping, the ride is thrilling, you can't wipe the smile off your face. Your already planning your next trip, a shuttle day, and in your imagination you're wearing a full-face lid and riding Mystic DH.
You finish your run as a tandem paragliding instructor comes into land with his passenger. Now that's not something you can do every day – at least not where you come from. They fly from the top of Mystic Hill. Time is limited and you want to explore some more trails, maybe do a gravel ride around the area while you still have the hire bike. But a scenic flight over the High Country? Now that's an idea.
What do you do?
Choose your next adventure, or scroll down for mountain bike trails
Come ride some of the best shreds in the country at one of our four mountain bike parks. Please note, the bike parks in Mount Beauty and Dinner Plain are maintained by our local bike clubs, and in Bright, by the local club in conjunction with a small not-for-profit landmanager. These are small but passionate organisations. Please look after the trails and support those who make riding here possible.
What: Mystic Park, Bright
Trailhead: Coronation Ave, Bright
Trails: The region's largest bike park set predominantly in an active pine plantation. Mystic has everything from beginner to expert, flow, downhill and cross country trails. Shuttles run every weekend with additional services during summer holidays. Open all year.   To ensure Mystic Park is sustainable, safe and maintained into the future, there is a fee to ride.  Check out all the details here.
What: Dinner Plain Mountain Bike Park
North Trailhead: End of Scrubbers End road
South Trailhead: Collectors Cirque near Geebung Rd.
Trails: A small but picturesque bike park with a range of fun, predominantly intermediate flow trails through the snow gums with an easy climbing trail to return.
What: Big Hill Mountain Bike Park
Trailhead: Bogong High Plains Road, Mount Beauty
Trails: The steep and technical trails of Big Hill are adored by those who love rugged downhill and challenging singletrack, although there are a number of beginner trails at the base. Shuttle services run on a select few days in summer only. Open all year.
What: Falls Creek Mountain Bike Park
Trailhead: Bogong High Plains Road, Falls Creek
Trails: Set high in the stunning Australian alps, Falls Creek has 40km of trails made up predominantly of cross country and flow, with some technical downhill. A great escape on a hot day. Shuttle services run every weekend in summer. This park is closed in winter.
Mountain biking involves the risk of serious injury or death. 
Your knowledge, decisions and actions contribute to your safety and that of others.
1. Ride open trails only
Never enter a trail that has been closed.
2. Protect yourself
Always wear a helmet and suitable protective equipment.
3. Control your bike
You are responsible for avoiding objects and people.
4. Know your limits
Ride within your ability.
5. Inspect trails
Conditions change. Check trails and features before you ride them.
6. Be kind to the trail
Ride it, don't slide it. And don't cut new lines.
7. Be visible
Never stop where you obstruct a trail, feature, or where you can't be seen.
8. Look out for others
Give way to vehicles. Call out to warn riders when approaching to overtake.
9. Leave no trace
Protect our forests and waterways by taking rubbish with you.
10. Respect our neighbours
Be polite to neighbouring residents and other users.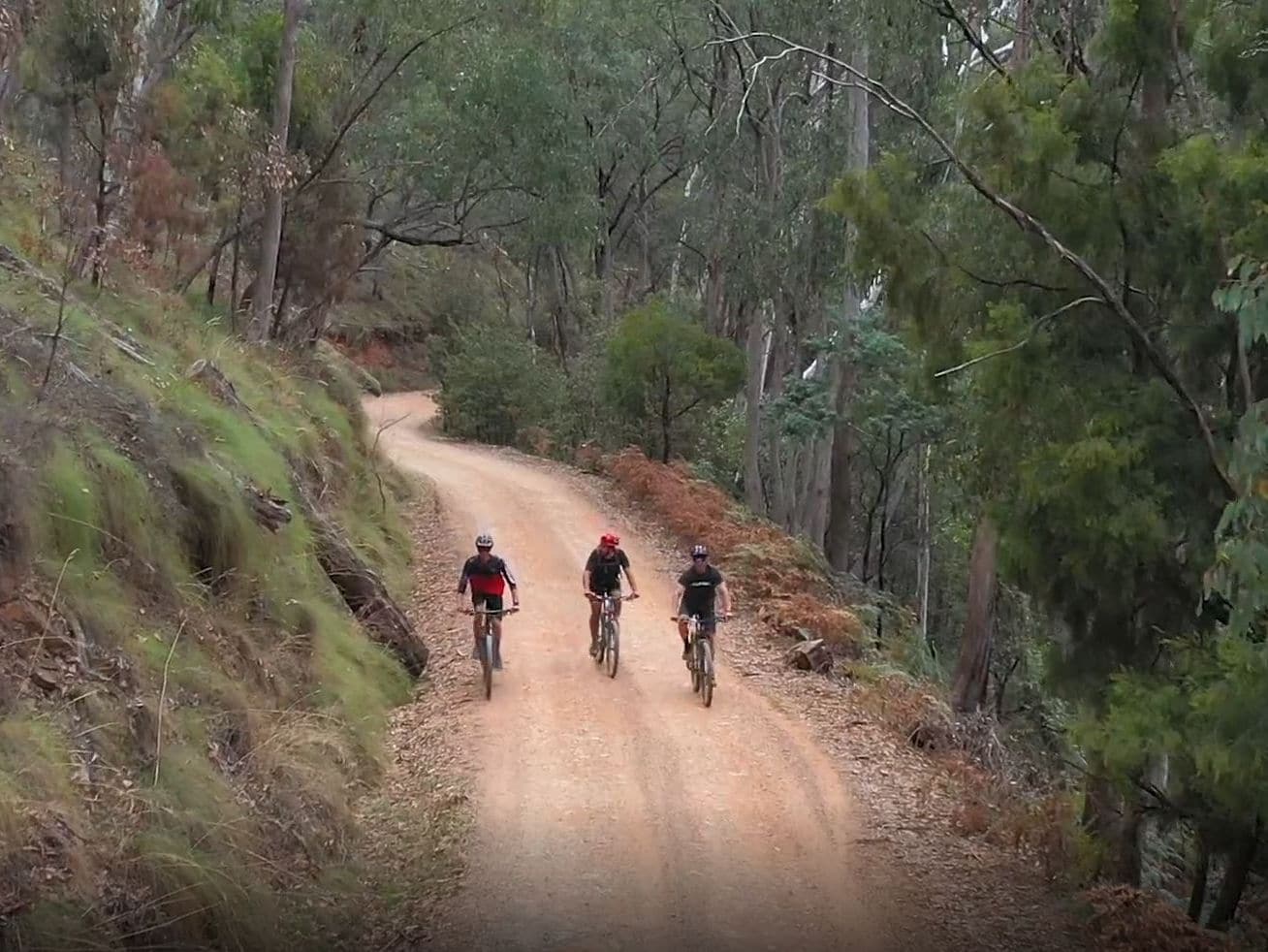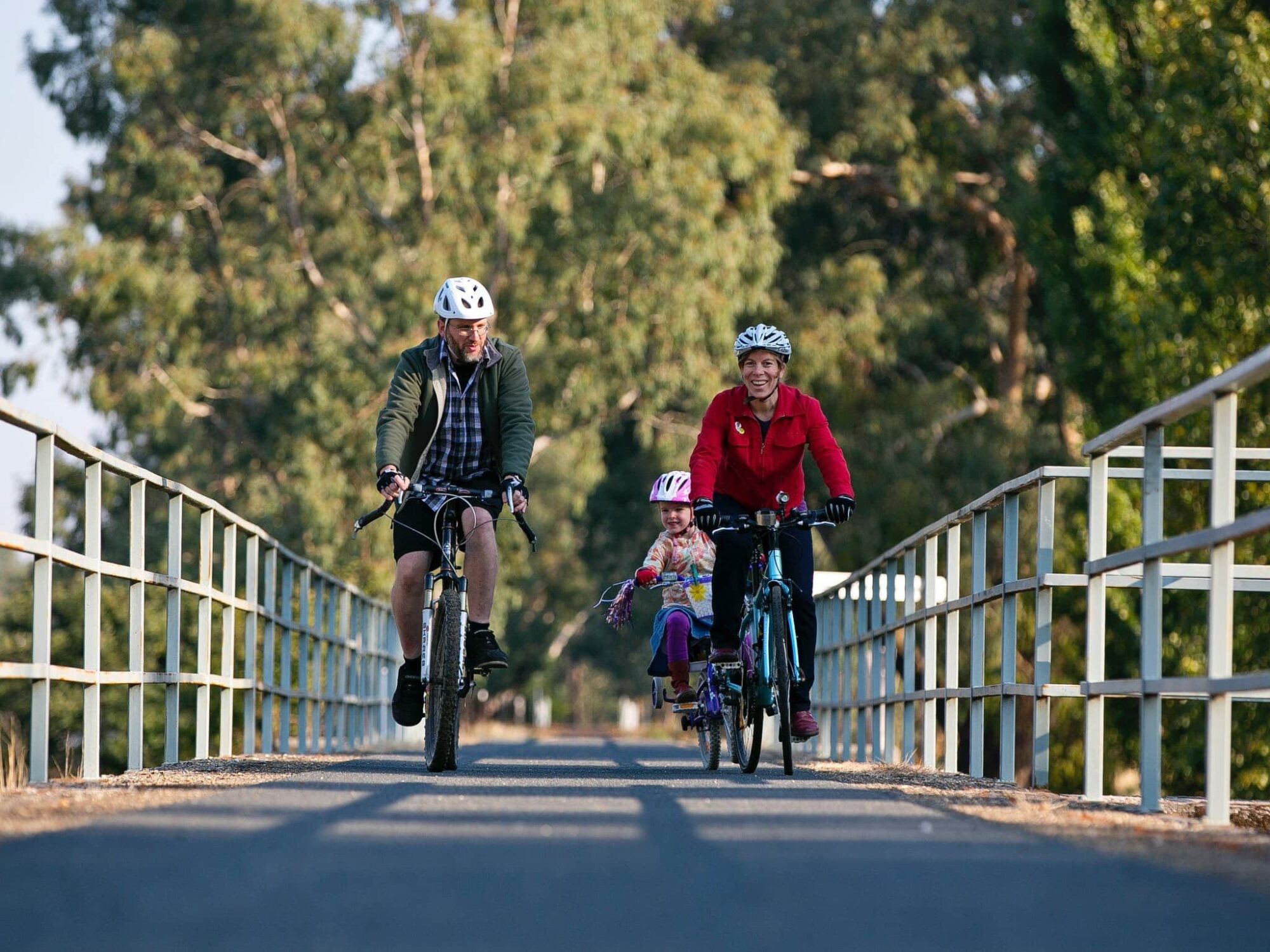 Myrtleford Cycle Centre
Located on the marvellous Murray to Mountains Rail Trail in North East Victoria, Myrtleford Cycle Centre is a family-owned and operated, full-service bicycle shop. Stop by for professional repairs, parts and accessories, hire bikes, cycle tours and more. The hire bike fleet comprises a large selection of comfortable regular pedal or electric bikes, perfect for…
OTHER EXPERIENCES YOU'LL LOVE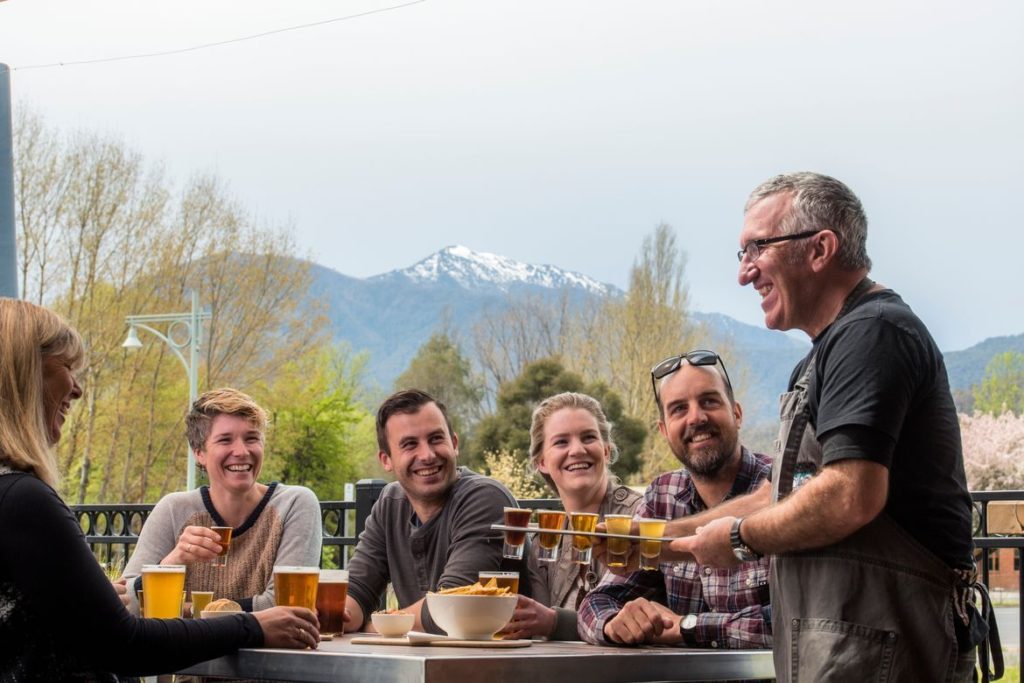 DISCOVER THE REGION'S PUBS & BREWERIES
This two-day suggested itinerary takes you to some of the region's most iconic drinking holes, with a little adventure thrown in between.
Take a dip in the river or cool off at a lake. Our natural swimming spots are the ideal way to spend a hot summer's day.