Water from an old gold dredge bucket dumps down on the children waiting below, hitting the ground with a 'splash'. Gleeful shrieks fill the air. Nearby, a father and son are drenching each other with water cannons. Water squirts from the ground as children dart through rings of spray glistening in the sunlight.
Splayed out on the grass by the banks of the Ovens River are families picnicking, sunbaking, reading, and sleeping. Some swim in the river as the lifeguard watches on, edging as close to the dam wall as they can before the water cascades over. Water splashes as someone bombs from the springboard, and again as someone comes down the Rotary Slide. Under a small bridge, where Morses Creek meets the river, the smallest children wade in the shallows, filling buckets and cups and splashing about in their sunhats. It's little wonder the Bright Splash Park and River Pool has become a summertime favourite for families.
Set within Centenary Park and close to the cafes and eateries of the town centre, the Splash Park and River Pool has easy access to gas BBQs and picnic tables. A large children's playground, drinking water and public toilets are located in the adjoining Howitt Park.
Best of all, it's free!
The Splash Park and River Pool are officially open in the warmer months of the year when a lifeguard is on duty. The season generally runs up to the Easter long weekend before the splash park is switched off for winter when the river runs cold and fast.
The splash park uses a single-use water system that draws water from a bore and requires no chemical treatment. Used water is drained into the river, adding to the natural flows.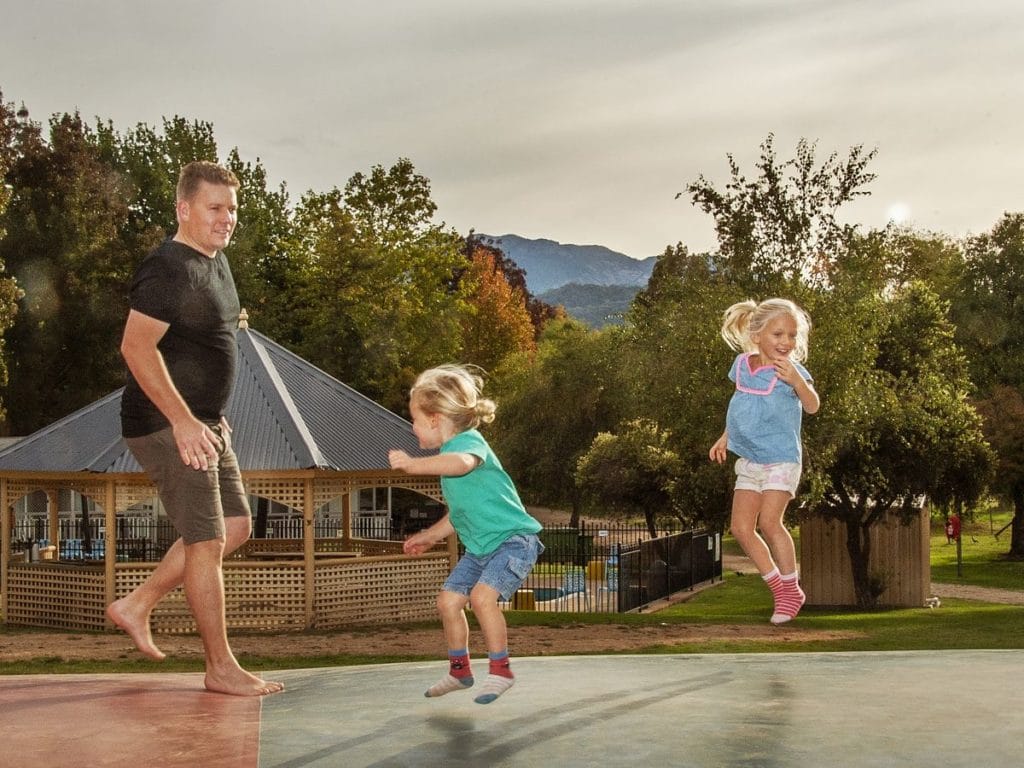 TRIP IDEAS FOR THE WEEKEND
This two-day itinerary will keep the kids fed and entertained on a weekend getaway the whole family will enjoy.
A WORLD OF HIDDEN WONDERS
Small native creatures, fairies and Pokemon – there are over 100 mosaics to find hiding on the scenic walks around Myrtleford.