Skiing, Snowboarding & Snow play

There's snow business...Bright and its Surrounding towns and villages are a mere hop away from some from the state's best snow play, skiing and boarding areas. Whether it's a peaceful cross country ski through the snow gums, the thrill of downhill skiing and snow boarding or tobboganing and snowball fights with the family, Bright's surrounding peaks offer something to suit all tastes and styles...
Mount Hotham and Dinner Plain
Mount Hotham is known as the mountain for the serious skier and is Victoria's highest resort, offering amazing 360 degree panoramas over the snow-covered slopes to the horizon. There are many accommodation options, restaurants and day spas on-mountain to discover. Visit mthotham.com.au
Dinner Plain is Hotham's sister resort and is just 10 minutes down the road. More than 200 chalets are nestled amongst the snow gums. Dinner Plain offers a gentle beginner ski run, complete with new snow making guns and facilities at the bottom of the run. Cross country skiing is also popular here with over 35km of groomed trails. There are regular bus transfers between Hotham and Dinner Plain and services from Bright and Harrietville. Go to visitdinnerplain.com.au for detailed information
Falls Creek
Victoria's largest alpine resort is located 31km from the Mount Beauty township and 60km from Bright. During winter, bus transfers are available from Mount Beauty. Falls Creek is designed for all abilities, with snowboarding, cross country skiing, downhill skiing and snow parks. An excellent range of accommodation, dining options, tours, retail outlets, schools and organised activities are available. Visit fallscreek.com.au for details.
Mount Buffalo
Mount Buffalo National Park provides winter activities ideal for first time snow goers, or anyone looking to have a bit of fun with the kids. To really experience this beautiful winter wonderland venture off the beaten track for cross country skiing with over 14km of trails on offer over the plateau. Visit parks.vic.gov.au for details.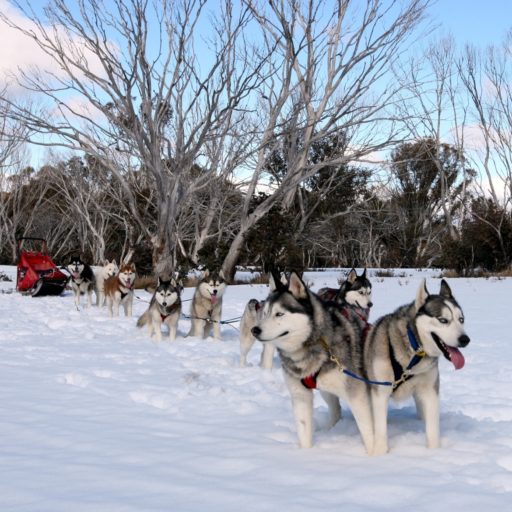 Mount Buffalo
Mount Buffalo National Park offers safe and accessible tobogganing and snow play areas set amidst the spectacular and unique granite landscape of Mount Buffalo plateau. Our closest mountain, provides a great family friendly alternative to the ski resorts. With tobogganing, cross country skiing, snow shoe shuffles or even winter abseiling. For information on shoe shoe shuffles, ski lessons or much more contact Adventure Guides Australia.
Falls Creek
Offering snow shoeing, dedicated toboggan slope, tube park, new snowplay park and more, Falls Creek is sure to have everything you could dream of to ensure your next visit to the resort is an amazing one. For anything snowplay visit the Falls Creek website
Dinner Plain
Dinner Plain is the perfect place for your winter break with a range of activities and events including downhill skiing and snowboarding, cross country skiing, tobogganing, snow shoe shuffles, frisbee golf, snow play and sled dog tours.
Mount Hotham
Mount Hotham, complete with dedicated snow play areas, tobogganing and SnowStuffPark play area with loads of fun filled activities, will keep the family entertained for days.